Service Award: Tammy Sawatzky, 30 Years
Tammy Sawatzky, Conservation Programs Division director, was recognized for 30 years of service at the June 1, 2015 meeting of the Oklahoma Conservation Commission. As division director, she oversees and operates two major programs for the agency, the watershed program and the locally led cost share program. After 15 years of staff reductions, responsibility for the entire division rests with Tammy. Her responsibilities include: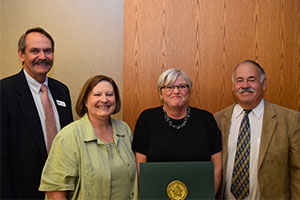 Managing a $35 million budget and program personnel to accomplish watershed operation and maintenance activities on Oklahoma's 2,107 flood control dams
Directing financial and technical resources as requested by conservation districts to assist in the operation and maintenance of the floodwater infrastructure.
Administering financial and technical resources to assist conservation districts and other project sponsors approved for federal assistance under the USDA-NRCS Small Watershed Rehabilitation Program
Managing construction contracts for rehabilitating dams through the Office of Management and Enterprise Services
Managing the conservation cost-share program and emergency drought fund ($500,000-$1.5 million)
Preparing cost-share budget requests, interpretation and update of cost-share program rules, communication with Commissioners, Commission staff and conservation districts on cost-share program matters, management of program expenditures, and management of program personnel
Developing guidelines and recommending allocations of program funding to conservation districts that provides financial assistance to land managers to install conservation practices that will improve water quality and reduce soil erosion.
Tammy has had many titles in her 30 year career. She started as a typist clerk in 1985. Other titles she has held include word processor, computer and word processing assistant, accountant, data processing services coordinator, administrative assistant, Conservation Programs and Cost-Share administrative officer and Conservation Programs deputy director.
Tammy has literally grown up in the Watershed Program. She is dedicated to her job and the mission of the agency. She possesses an amazing work ethic. When we hear others talking about how much they have to do, or how busy they are, Tammy is quietly taking care of business. She continuously performs at an extremely high level.
Tammy holds two Bachelor's Degrees from the University of Central Oklahoma in Business Administration and Accounting. She completed the state's Certified Public Manager's program in 2007. In 2008 she completed Microsoft Excel and Access Expert training in order to develop and maintain relational databases for dam operation and maintenance, upgrades, inventory, and the cost-share program assets.
She has a great love of dogs and has become quite an accomplished self-taught photographer.
We're proud to call Tammy our coworker and friend. Congratulations, Tammy!