Service Award: Shanon Phillips, 20 Years
Shanon Phillips, Water Quality Division director, was recognized for 20 years of service at the July 9, 2015 meeting of the Oklahoma Conservation Commission. Her recognition read: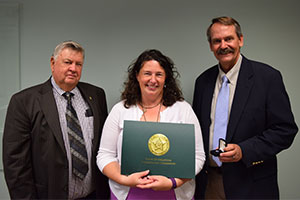 "[Shanon] began her career as a Carl Albert Executive Fellow intern with the Oklahoma Water Resources Board.
She came to the Oklahoma Conservation Commission in June of 1997 as a Technical Writer, and became the Senior Technical Writer and Quality Assurance Officer in May 2001. During this time, Shanon was responsible for overseeing all technical writing aspects of the Commission's Water Quality Program. She was responsible for the writing of proposals, work programs, final reports, monthly, semi-annual and annual reports.
In 2006, Shanon was promoted to Assistant Director of the Water Quality Division where she provided assistance to the division director, as well as developed EPA Clean Water Act 319 workplans and other possible funding proposals.
Shanon was selected as the Water Quality Division Director in 2009. For the past 6 years, she has been responsible for implementation of the nonpoint source pollution program, which includes activities completed under the EPA Clean Water Act Section 319 program, the State's Wetland Program, USDA Conservation Reserve Enhancement Program, the State's Carbon Sequestration Verification Program and most recently the soil health initiative and USDA Regional Conservation Partnership Program.
Shanon does an amazing job managing the $5.7 million Water Quality Program with a staff of 30 conducting statewide and watershed-specific monitoring, education, implementation and water quality planning programs.
Shanon earned her Bachelor's Degree in Biology from Kansas State University, and her Masters in Zoology from Oklahoma State University, studying nutrient impacts in lakes.
Shanon lives in Oklahoma City with her husband Jon, her son Cooper and too many pets to list here. The daughter of two science teachers, she grew up with an appreciation for the importance of environmental protection. Her family farm is in Coffey County, Kansas near the town of Waverly. She serves as a Board Member of the Oklahoma Clean Lakes Association, Keep Oklahoma Beautiful and is a Member of the State Chapter of the Soil and Water Conservation Society.
One of her colleagues accurately depicts Shanon here in a previous employee of the year nomination 'Shanon makes unparalleled efforts in understanding each employee's job performance expectations, work load and abilities. Shanon prepares continuously to represent OCC and also exhibits an innate ability to think on her feet. It is an honor to work with someone with such integrity and that is so dedicated, thoughtful, respected and resourceful.'
Congratulations, Shanon, on 20 years of service to the State of Oklahoma."