Service Award: Jason Ramming, 15 Years
Jason Ramming, Water Quality Division monitoring coordinator, was recognized for 15 years of service to the state of Oklahoma at the September 1, 2015 meeting of the Oklahoma Conservation Commission.
An excerpt from his recognition reads: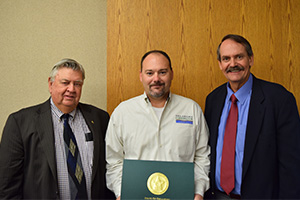 "Jason started with OCC as a water quality specialist in 2000 after completing his bachelor's degree at Southwestern Oklahoma State University. In 2011, Jason became the monitoring coordinator and oversees the staff of six water quality specialists. This includes selection of sites, scheduling of work and division of labor according to staff abilities and locations. He also covers some of the rotating basin sites each year and has maintained the automatic water samplers for the North Canadian River Project. Jason is also overseeing the monitoring for the new Elk City Lake Regional Conservation Partnership Program project.
Jason is always willing to help out wherever needed, whether it be special projects or working with a university professor to demonstrate monitoring techniques to his class. Jason has used his knowledge to help partners such as Oklahoma State University and the University of Oklahoma, Oklahoma Corporation Commission and the Town of Spiro conduct monitoring and overcome problems with their monitoring programs.
Jason and his wife have two beautiful daughters and live in Hinton where he is also a no-till farmer. Jason and his girls have long been active in 4H and FFA and have shown pigs for years, but he and a friend have recently begun a show pig breeding program where they are having some notable success. Jason's work ethic, knowledge and sense of humor make him a pleasure to work with and we're pleased to recognize him for 15 years of service."
Congratulations, Jason!