Employee of the Quarter: Stacey Day
Stacey Day, OCC Water Quality Division environmental scientist manager, was named employee of the quarter at the June 1, 2015 meeting of the Oklahoma Conservation Commission. Her nomination reads: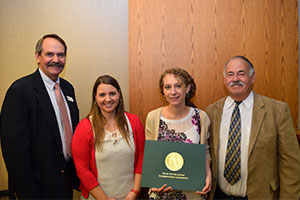 "Possessing the tenacity and cunning of a velociraptor, the strength and devotion of a mother grizzly, and the locks of a long haired alpaca, Stacey Day is the clear choice for Employee of the Quarter. Try finding one Water Quality Division project she hasn't had a hand in—you won't.
Some of Stacey's recent accomplishments include documentation of Oklahoma's water quality success stories, assisting in deployment of the state's first interactive stream health map available on the website, and securing a Governor's Commendation and a Red Tape Reduction Award for the agency through the Quality Oklahoma Team Day program.
Stacey's technical expertise is a critical component of Water Quality's success, and she is always a pleasure to work with. I pity the fool who does not select her for Employee of the Quarter."
Stacey, you're an inspiration to us all. Congratulations!