2015 Quality Team Day Award
Our Interactive Stream Health Map received a Red Tape Reduction Award as part of the 2015 Quality Oklahoma Team Day Awards.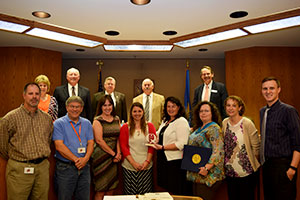 Titled "Interactive Map: Providing Accessible Stream Information to Oklahomans," the award entry read: The Oklahoma Conservation Commission's (OCC) Water Quality Division, in partnership with the Office of Geographic Information and Technical Services Division and the OCC Communications Department, designed and launched an interactive map of stream monitoring sites across the state. Users can click on the map and receive information on the water quality and fish communities of more than 300 streams throughout Oklahoma. The clickable map allows instantaneous information retrieval, which is more convenient than the previously required official data request. The stream summaries available through this project provide overall "stream health" conditions, which is much more understandable and meaningful to the general public than the 200 page reports which had been the primary way to communicate the stream data.
The Interactive Stream Health Map team is Nathan Carter, Jeanette Lamb, Leonard Moore, Jason Ramming, Ashley Rhea, Wes Shockley, Blane Stacy, Stacey Day, Greg Kloxin, Jean Lemmon, Shanon Phillips, Karla Spinner, Brooks Tramell, Cheryl Cheadle, Jeri Fleming, Candice Miller, Kim Shaw, Mike Sharp, Shellie Willoughby, Stacy Hansen and Robert Hathorne.