Yard by Yard: A Community Resiliency Project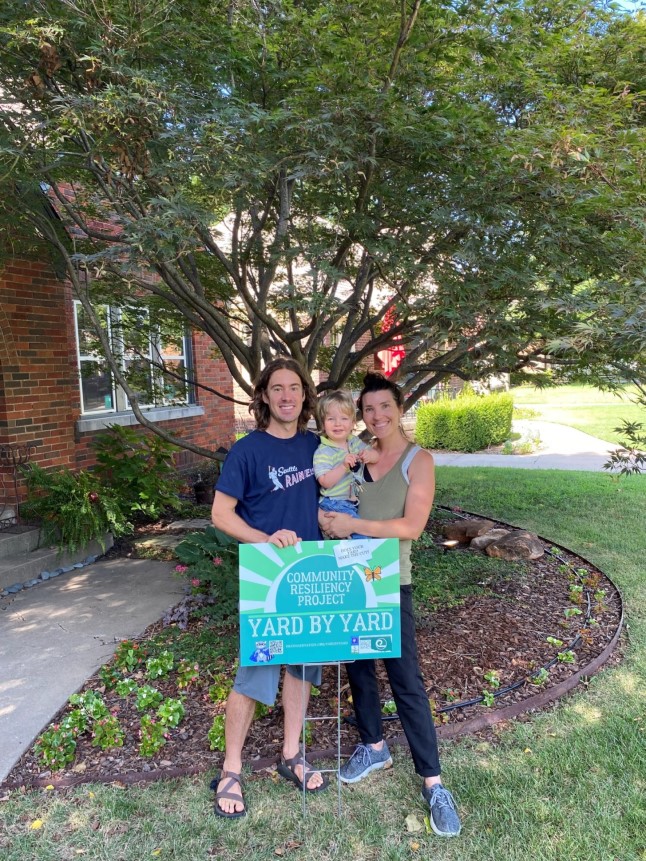 "BLUE THUMB CALENDAR 2021 FEATURED PRODUCERS FOR JULY"
BURNEYVILLE, Okla. – If there's a book within every family, how will you write your chapter?
Kit and husband Josh Dinwiddie are examples of those who appreciate the earlier authors.
For example Kit, who was born and raised in the western Kansas community of Hays, really respects her grandmother's era of life when farming practices out on the big plains didn't involve chemical assistance being introduced into the food supply.
Simply hearing the stories of her early life and how self-sufficient they were and how it really contributed to her longevity — she lived to be 93 – have left an enduring impression on Kit.
Also, Kit's mother did a great job in teaching her that we have an impact on all living things around us.
Josh Dinwiddie was born in Oklahoma City and raised in southern Oklahoma between Carter and Love Counties. Josh's grandparents come from Clinton and Arapaho, Okla., and settled in Piedmont, Okla.
"While gathering cattle in the Spring on the big open sections of wheat, my papa would point out every year that the yield, quality and soil condition were degrading due to overworking ground and leaving it bare for big portions of the year," Josh said. "I remember him telling lots of younger farmers that we gathered cattle for that 'If you take care of this ground, it will take care of you.' I never knew what he meant until I started farming for myself, and all of a sudden those words make all the sense in the world."
So we turn to today's chapter. The Dinwiddies live in Love County in south-central Oklahoma where they raise cattle and farm on the "Cross Timbers line."
"This place is an amazing part of Oklahoma to farm/ranch because we have a little bit of everything here," Josh said. "From tree cover for cattle, to lush river bottom grasslands with native pecan trees, good sandy loam farm ground, and plenty of water most years" this is a great area.
Kit has always been a proponent of environmental awareness. Early steps into their conservation minded farming practices as a couple started with doing things on their own differently than their neighbors. Perhaps the most significant early step would have been reducing or omitting the use of herbicides on ground they grazed.
"Over the years I realized that not only did it make my wife happy that I was significantly reducing my chemical footprint farming," Josh said, "I was simply spending less money and creating more nutrient dense crops. So the development of how we farm has only become more economical, which in the end, we found to be the right answer. If we can not only produce crops that are richer and more beneficial nutritionally for our livestock, but also produce those crops with less inputs, I believe we have found a way to be profitable, while improving the integrity of the land."
The Dinwiddies have done several projects that helped to control erosion and bring water retention up on their land. They also use minimum tillage practices and always try to incorporate something green and growing into their tillage seasons while never leaving the soil bare.
"We also apply microbes to our crops, fruit trees, and produce," he said. "We grow and maintain families of non-GMO produce and fruit. We have also switched to feeding our poultry non-GMO feed for egg production."
Benefits from their tillage practices dramatically increase the quality of the soil "as well as dramatically decrease the level of commercial input needed to grow those crops," Josh said. They grow pearl millet, sugar-dense sorghums, and forage corn to bale to feed their livestock over the winter giving them a very nutrient-dense forage.
"The main benefits we receive from feeding non-GMO is maintaining a non-scientifically altered diet for our stock, and all of those who consume our meat and eggs, including ourselves," he said.
Their commitment to environmental awareness reaches beyond the farm/ranch. Kit sits on the Board of Directors for the Love County Conservation District. This role is important to her because she wants to do her part to leave the next generation healthy land, clean water, and a diverse ecosystem. Josh and Kit are also members of the Registered Texas Longhorn Beef Producer Program. This program is important to them to provide healthy meat into a market for today's health-conscious consumers. They are members of the Texas Longhorn Breeders Association of America, the International Texas Longhorn Association, and Josh is the President of the Indian Territory Texas Longhorn Association.
"We believe our role in all of these organizations are important to furthering the conservation of America's first cattle, the Texas Longhorn," he said.
The couple also make an effort to continue learning.
"The area and state meetings are always inspiring because you're in a room full of peers that care about conservation," Kit said. "It is rare to find a concentration of individuals that are on the same page and believe in the gravity of the role we play in ensuring that we have healthy land and water."
They were asked what it is that they enjoy most about being around those who champion water quality and soil health.
"It gives us hope that there are people out there that understand that conservation is the baseline of where healthcare begins," Kit said. "We also appreciate people that have compassion for the organisms that we share this earth with."
Also, they have found that the demand is there for what they supply and "largely because of the quality and how it is grown."
"This has inspired others to implement some of the same practices," Josh said. "We believe we are a working model of natural farming practices and showing how it works economically."
Editor's Note: The Oklahoma Blue Thumb Calendar highlights important information about conservation, has a featured producer(s) in the months of February through October, and provides contact information for both Blue Thumb staff and Conservation Districts. Plus, this year's project includes an in-depth producer(s) feature story, such as the one following. If you would like a copy of the free 2021 Blue Thumb Calendar, please contact Blue Thumb Program Director Rebecca Bond at Rebecca.bond@conservation.ok.gov.