WET Water Education for Teachers
Water Education Today is an interdisciplinary water education program intended to supplement a school's existing curriculum. Using water as a theme, Water Education Today provides hands-on activities to enhance the teaching of science, math, social studies, language arts, and many other required subjects.
The goal of Water Education Today is to promote the awareness, appreciation, knowledge and stewardship of water resources through the development and dissemination of classroom-ready teaching aids. By using Water Education Today services and resource materials, educators and their students will gain the knowledge, skills, and commitment needed to make informed decisions about water resource uses and conservation.
Water Education Today is primarily designed for classroom teachers of grades K-12, but natural resource professionals, youth leaders, nature center instructors, and other educators who work with students in these age groups will also find Water Education Today particularly useful. The award-winning, NSTA-recommended Water Education TodayT Curriculum and Activity Guide 2.0 continues Water Education Today's dedication to 21st-century, cutting-edge water education. Correlated to Common Core Standards and to Next Generation Science Standards, the Curriculum and Activity Guide 2.0 gives educators of children from kindergarten to twelfth grade the tools they need to integrate water education into every school subject. Featuring 64 field-tested activities, more than 500 color photographs and illustrations, and useful appendices with information on teaching methods, assessment strategies and more, this guide is an essential classroom tool and excellent resource for pre-service teachers.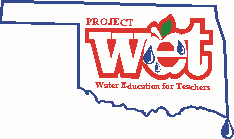 Additional water education resources cover water history, ground water flow models, children's stories, and more.
Water Education Today materials are distributed through minimum 6-hour workshops. There is a $20 per person fee for the workshop.The workshop schedule can be found here. 
To learn more about Oklahoma Water Education Today, contact the Oklahoma Conservation Commission at 405-521-6788, or
e-mail candice.miller@conservation.ok.gov.