Kay and Noble County 2014 Women in Ag Day "Biggest Ever"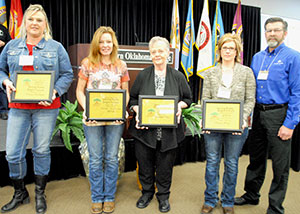 The Kay and Noble County Conservation Districts held their sixth Women in Agriculture Conference on February 12, 2014 at the Renfro Center on the Northern Oklahoma College campus with over 200 in attendance, drawing attendees from all over the state and bordering counties in Kansas. The conference provides resources and educational opportunities in fields ranging from conservation and agriculture to relationships. The conference also provides much-needed networking opportunities for potentially isolated rural women.
Susan Henning, district manager for Kay County Conservation District and one of the event's coordinators, said that by learning what other women are doing in different areas, attendees are able to bring new ideas back home and improve agricultural production overall.
Diverse Topics
Popular keynote speakers, Dr. Shannon Ferrell, OSU Associate Professor of Ag Law, spoke on Transitioning the Farm to Future Generations, followed by Dr. Christine Rattin, Invasive Cardiologist with the OK Heart Hospital in Lawton, speaking on Women's Heart Health. Dr. Rattin gave away two heart health screenings at OK Heart Hospital. Morning and afternoon break-out sessions covered subjects ranging from Raised Bed Gardening, Beekeeping 101, Ground Water Management, Cattle Handling for Animal Well-being and Handler Safety, Communications between Men and Women, Mineral Rights and Leases, Freezer and Quick Meals, Grazinglands Management, and Self Defense and Safety Tips for Women.
Local Sponsors Show Support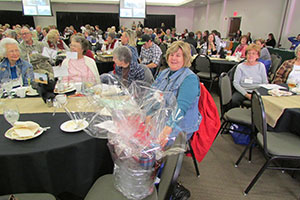 Four local farm women were honored during the luncheon, Karen Ballagh and Karin Merz from Kay County and Cathy Anderson and Berdettya Linn from Noble County for their dedication to farming and their communities. American AgCredit has been a long-time supporter of the conference and continues to sponsor registrations for the featured women and this year was the sole sponsor of the morning refreshments.
"[This year's conference] was the biggest and best we've ever had," said Lonnie Stone, Kay County Conservation District's district secretary and a member of the event's planning committee.
The conference received overwhelming support from area businesses for conference expenses, door prizes and goodie bag items. Kay County business sponsors were American AgCredit, Diemer Construction, Eastman National Bank, Farm Credit of East Central Oklahoma, Helena Chemical Company, Kay Electric Cooperative, P&K Equipment, Eddie Douglas Real Estate, Farmers Exchange Bank-Tonkawa, First National Bank-Tonkawa, Kelle Oil Company, Otto Seeds LLC, Tickel Crop Insurance, and Bradley Crop Insurance.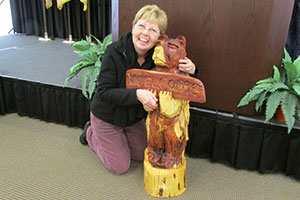 Appetite Pleasin'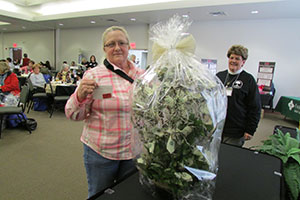 Attendees were treated to a delicious lunch by Copper Pot Catering complete with homemade fruit cobblers and ice cream. Twenty-one informational and vendor booths were visited throughout the day including the Northern Oklahoma Pink Heals Fire Truck which was available for cancer survivors to sign. Over 50 door prizes were given away during the day with the two Grand Doorprizes of a money tree with $200 in cash and a carved cedar bear statue given away at the conclusion of the conference. The conference is offered on a biennial schedule with the next conference in 2016.  For more information contact the Kay County Conservation District at 580-362-2438 or the Noble County Conservation District at 580-336-2003.