Coal County Conservation District holds Open House in New Building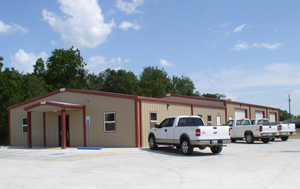 Approximately 50 people attended Coal County Conservation District's Open House on Sept. 7 in Coalgate. State Reps. Paul Roan and Donnie Condit attended along with Ben Pollard representing the Oklahoma Conservation Commission and Ron Hilliard and Jamey Wood representing the USDA Natural Resources Conservation Service. Numerous conservation district and NRCS employees from surrounding districts and field offices paid a visit as did local county commissioners, county employees, retired district and NRCS employees and local citizens.
The Coal County Conservation District board of directors had discussed building a new office for several months but were hesitant because of the challenges to the state and national economy during the last few years. But they proceeded with the sale of the district's old shop that was several blocks away from the office at that time. Needing a place to store district equipment motivated them to proceed with the construction of a new building.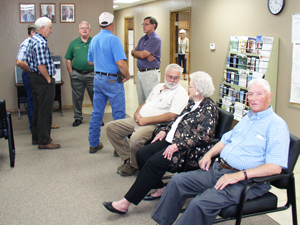 The sale of the shop helped purchase the land where the new office and attached shop are located. Construction began in early July 2010 on a 125- by 40-foot building with a 75- by 40-foot shop and 50- by 40-foot office space. At first, only the inside of the shop was finished and the office remained in a shell state. NRCS acceptance of the district's bid for office space allowed the interior of the office to be completed June 17. The district and NRCS began moving into the new space on June 29.
"It was a challenge for us, but in the end it was worth it," said Melissa Williams, Coal County Conservation District secretary. "We have a beautiful office to enjoy and we have also sold our old office building as of Friday, Sept. 9. We didn't have to finance any of this building — we used our local funds to construct it," she said.