Wildlife Expo 2009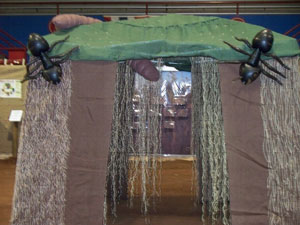 "Watch out for the giant earthworm!"
If you were one of the 42,000 visitors to the 2009 Oklahoma Wildlife Expo you probably heard this phrase repeated many times over the course of the 3-day event. The event was held at the Lazy-E Arena near Guthrie on Sept. 25-27, 2009. The Rogers County Conservation District and the Oklahoma Conservation Commission's Conservation Education Program hosted the Wildlife Beneath Your Feet exhibit area at the Expo. This exhibit area was successful due to the efforts of over 40 volunteers representing local conservation districts, the Oklahoma Conservation Commission, the Oklahoma Environmental Education Coordinating Committee, the Oklahoma Department of Wildlife Conservation, Oklahoma Project WET and OSU Department of Education.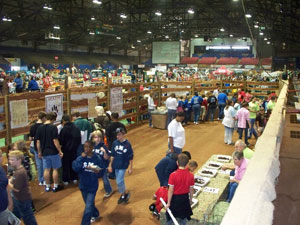 With the help of these volunteers, one corner of the Lazy-E Arena was transformed into an underground classroom where visitors discovered critters that help make healthy soil. Visitors entered the exhibit area through an earthworm burrow filled with plant roots, explored a soil profile display describing lots of critters that live in the soil and unearthed some of the soil critters at work in compost containers. Visitors to the exhibit area also created artwork with paint made from Oklahoma soils, colored pictures of soil critters and investigated skins, skulls and tracks of animals living in and on the soil.
The Oklahoma Wildlife Expo is the state's largest indoor and outdoor recreation event. Presented by the Oklahoma Department of Wildlife Conservation and a coalition of conservation organizations, agencies and sponsors, Expo celebrates our great state's natural diversity and opportunities for the sporting enthusiast. From camping and outdoor skills to shooting sports and fishing, from bird watching to kayaking, Expo visitors have an opportunity to try their hands at three days of fun in the outdoors. The exhibit area sponsored by the Rogers County Conservation District and the Commission's Conservation Education Program is designed with children and families in mind and provides activities that introduce visitors to wildlife, nature and the outdoors.