Watershed Program named National Historic Landmark
USDA-Small Watershed Program Recognized as a National Historic Landmark in Agricultural Engineering by the American Society of Agricultural and Biological Engineers (ASABE).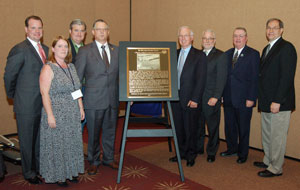 The USDA-Small Watershed Program has been designated as a national historic landmark in agricultural engineering by the American Society of Agricultural and Biological Engineers (ASABE).  A ceremony was held at the National Watershed Conference in Oklahoma City on May 17th, to mark the event with 150 people in attendance.  Speakers included Oklahoma Lt. Governor Todd Lamb, ASABE President Ron McAllister, USDA Natural Resource Conservation Service (NRCS) Chief Dave White, USDA Agricultural Research Service (ARS) Administrator Dr. Edward Knipling, Oklahoma Association of Conservation Districts Executive Director Clay Pope, Northern Virginia Soil and Water Conservation District Director John Peterson, and Agricultural Research Service Research Hydraulic Engineer Dr. Sherry Hunt.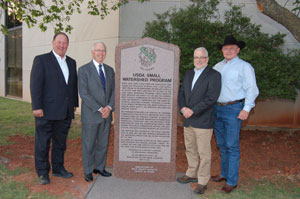 The ceremony included the unveiling of a brass plaque recognizing the USDA Small Watershed Program. A granite monument recognizing this designation has been placed at the Oklahoma Agricultural Building in Oklahoma City.  Brass plaques will also be placed at the Agricultural Research Hydraulic Engineering Research Unit at Lake Carl Blackwell near Stillwater, Oklahoma and at the USDA Natural Resources Conservation Service State Office in Stillwater.
The ASABE Historic Agricultural Engineering Landmark activity commemorates significant past accomplishments with appropriate landmarks. Only 57 historic landmarks have been recognized by ASABE since 1926 including other significant developments such as the John Deere plow, the cotton gin, vegetated waterways, and the skid steer loader. For a listing of all ASABE Historical Landmarks, visit www.asabe.org/awards/historic2/index.html. Some of the criteria for ASABE designation as a Historic Agricultural or Biological Engineering Landmark include the following:
The historic, engineering event to be commemorated must be associated with the advancement of agricultural engineering in North America.
The event must have occurred at least 20 years prior to the nomination.
The event must have caused a significant impact on the industry as evidenced by the breadth of its acceptance, its monetary savings, or in its increased environmental or product safety for farmers or other consumers.
The event must be new and unique to North American agriculture.
The USDA Small Watershed Program established the principle of combining conservation practices in a watershed with flood control dams on tributary streams. In order to implement the program, innovations in engineering, hydraulics, hydrology, and soil mechanics were developed by USDA Soil Conservation Service (now NRCS) and ARS engineers and scientists.
Since 1948, 11,000 flood control dams and associated conservation practices in more than 2,000 watershed projects encompassing 160 million acres in 47 states have been constructed as a part of the USDA Small Watershed Program. These projects have improved the quality of life and the environment in rural communities by protecting people's lives and property, conserving soil and water resources, reducing flooding, providing economic development, recreation, and water supplies, enhancing water quality, and improving wetlands and wildlife habitat. It is estimated that the Watershed Program has created a $15 billion infrastructure of flood control dams and associated conservation practices that provide over $2 billion in average annual benefits to 48 million people.
The program was created by the Flood Control Acts of 1936 and 1944 and expanded nationwide by the Watershed Protection and Flood Prevention Act of 1954. The projects are planned and implemented by local units of government, such as conservation districts, with financial and technical assistance from the NRCS.
"It was appropriate to have the dedication ceremony in Oklahoma," said Mike Thralls, Oklahoma Conservation Commission executive director, "because the state has always been a national leader in the Small Watershed Program with several national 'firsts', including the first flood control dam constructed with assistance of the USDA Watershed Program in July 1948, and the first dam rehabilitated in April 2000." Oklahoma also leads the nation in the number of dams with 2,107 USDA-assisted flood control dams constructed since the program began.