Watershed Aide for Seminole County and Konawa Conservation Districts
Two Districts and OCC Sign Watershed Aide Agreement, First in Nation
Seminole County and Konawa Conservation Districts entered into an agreement with OCC at the August Commission meeting to formalize a new strategy for addressing watershed operation and maintenance. Robert Toole, OCC Conservation Programs director, called the project the first of its kind in the nation. It began as a pilot project at Seminole County CD in January 2005 in which the first watershed aide position was funded for a district employee to work full time on watershed operation and maintenance. OCC watershed technician Dennis Boney represented OCC in co-supervising the position along with the Seminole County CD and Sam Fox was hired as the nation's first Watershed Aide.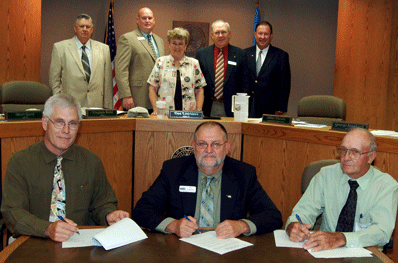 OCC and Seminole County CD developed the job description, made appropriate changes during the two-and-a-half-year process and are ready to expand the program, Toole said. With Konawa CD coming on board, OCC was ready to formalize the position with a three-way agreement, Toole said.
Under the terms of the agreement, OCC will fund the salary for the watershed aide position, provided the position is used solely to operate and maintain watershed structures. OCC will also provide funds for watershed repairs, equipment, supplies and materials as deemed necessary. For their part, the conservation districts agreed to use the monies solely for the operation, maintenance and related expenses of watershed structures. In collaboration with OCC the districts will develop a Watershed Operations and Maintenance Plan for the term of the one-year agreement. The agreement also outlines responsibilities for the watershed aide, and directs the districts to sponsor at least one event for the purpose of educating federal and state legislators on the watershed program, operations and maintenance, and rehabilitation.