Virginia Kidd Retires as Area V Commissioner
Virginia Kidd, LeFlore County Conservation District director, is retiring from her post as Area V Conservation Commissioner as of June 30, 2010, completing three terms.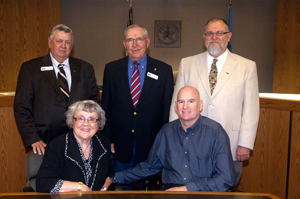 Kidd has served on the board of directors of the LeFlore County Conservation District since 1986. In 1996 Gov. Frank Keating appointed her to serve as Area V Commissioner on the Oklahoma Conservation Commission. Gov. Keating reappointed her in 2000 and Gov. Brad Henry reappointed her in 2005. In June 2010 will retire from that post having completed three five-year terms. Prior to her service at the Conservation Commission Virginia served nine years on the Department of Human Services Commission, appointed by Gov. Henry Bellmon.
At the 2010 Annual State Meeting of the Oklahoma Conservation Commission, Kidd received a Governor's Commendation from Gov. Brad Henry. Jeanette Nance, Governor's liaison, presented the Governor's Commendation that read: "Governor's Commendation is hereby presented to Virginia Kidd in appreciation of your more than 22 years of public service to the State of Oklahoma, 14 of which have been spent championing the cause of natural resource conservation in southeast Oklahoma as Area V Conservation Commissioner, and for your 24 years of service on the LeFlore County Conservation District board of directors.
Ms. Kidd, a resident of Poteau, was raised on a farm and continued as an adult in the farming and ranching business before entering a marketing and public relations career from which she retired. In addition to service on the Oklahoma Conservation Commission and the Department of Human Services Commission, she has served as a trustee on the Carl Albert State College Foundation, on the boards of the Oklahoma Heritage Association and the Kiamichi Economic Development District of Oklahoma.
During Ms. Kidd's 14-plus years on the Commission many conservation milestones occurred. The state Conservation Cost-Share Program was initiated and is now in its 12th year. OCC's Water Quality Program has expanded and made great strides in reducing nonpoint source pollution in the state. Last year the Legislature passed an historic $25 million conservation bond issue to primarily address watershed operation and maintenance, watershed rehabilitation and repair of flood damaged areas.
Commissioner Kidd always championed the abandoned mine reclamation program during her tenure. One of her proudest accomplishments was the completion of a major mine reclamation project near the town of McCurtain. Commissioner Kidd was always a positive ambassador for conservation in Area V and the state of Oklahoma. She was always willing to talk with elected representatives to ensure conservation issues were addressed.