Upper Washita Seeks Legislative Help to Keep Dams Safe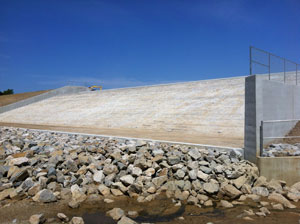 The Upper Washita Conservation District hosted Senator Tom Ivester from Sayre (District 26) and Representative Todd Russ from Cordell (District 55) on November 19, 2013, at the conservation district office in Cheyenne to brief them on the important work they do and the unique challenges they face. All five conservation district board members were in attendance.
The conservation district board explained the difficulty the district has had in fulfilling its duties with reduced staffing. Due to budget cuts, they are unable to hire a replacement for the equipment manager, leaving the operation and maintenance on 173 upstream flood control structures in the hands of one full-time benefited employee.
Growing Pains
With the recent boom in oil and gas exploration and wind power development in Roger Mills County, the district has also been inundated with Call Okie requests. Call Okie is a service that identifies the presence of infrastructure, such as flood control structures, that excavators need to be aware of to prevent damage. The districts get called so they can determine if potential digging within a flood control dam easement will pose a threat to a dam.
The district's heavy workload combined with uncompetitive pay and no benefits has made it very difficult to find qualified individuals to get the job done. Seeking relief, the district board asked the legislators to include adequate funding for conservation district personnel in the upcoming legislative session (February 3, 2014-May 30, 2014).
Also in attendance were Kim Farber, Oklahoma Association of Conservation Districts (OACD) president, Dean Graumann, OACD vice president, Clay Pope, OACD executive director , and Robert W. Toole, Oklahoma Conservation Commission (OCC) Conservation Programs Division director.