Upper Washita Conservation District receives grass drills through SWODA grant
Upper Washita Conservation District recently received a group of grass drills through a grant from the South Western Oklahoma Development Authority (SWODA). The grant funding came from the state's Rural Economic Action Plan (REAP). The district applied for the $75,000 grant in October 2008 and received approval in December of that year. The grant enabled the district to purchase four standard grass drills and two no-till drills, all with small and fluffy seed boxes, and three hitches. Under a previous SWODA grant the district had purchased one-ton pickup with a flatbed and tool boxes and a laptop computer.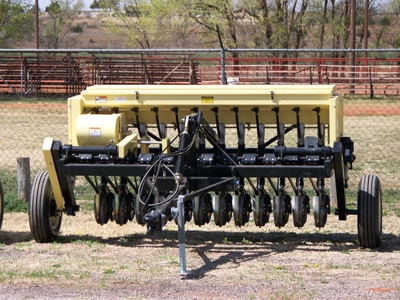 SWODA, headquartered in Burns Flat, was created in 1971 in a joint effort by municipalities, counties and conservation districts in Beckham, Custer, Greer, Harmon, Jackson, Kiowa, Roger Mills and Washita counties. Leaders in those communities recognized that some problems shared by many of these governmental entities could be better solved if they worked together. From these governmental units and from other population segments in the region, 30 representatives are elected to serve on SWODA's governing board. A five-member board of trustees determines policy for SWODA.
Since the early 1980s, SWODA has assisted all the conservation districts in the region to prepare and to adopt their five-year long-range plans. A few of the ten districts have also received assistance in their annual work plans.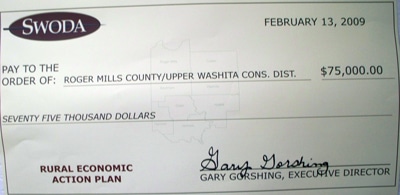 Upper Washita Conservation District pays approximately $530 per year in dues to be a member of SWODA. The district board feels like it is a worthwhile investment, said Nena Wells, district manager.