Trey Lam receives the South Central Region Conservation District Employees Association 2019 Distinguished Service Award
The South Central Region Conservation District Employees Association on July 22 presented their 2019 Distinguished Service Award to Trey Lam, Executive Director of the Oklahoma Conservation Commission. The award was presented during the 2019 South Central Region of the National Association of Conservation Districts (NACD) Meeting in Thackerville, Okla.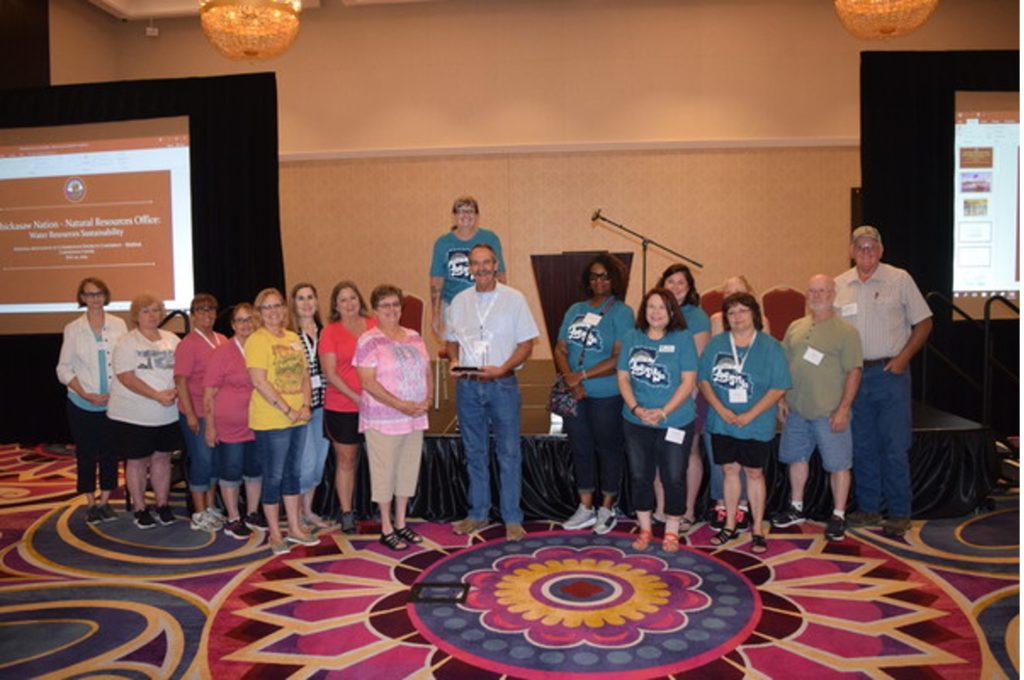 Following is the nomination letter for that award:
"I need to be there." Trey Lam, Executive Director of the Oklahoma Conservation Commission doesn't say that, he does it.
"There" may be a retirement party for a conservation pioneer. Or "there" may be standing in what was once a promising corn field, but after historic floods resembles the surface of the moon. He's elbow to elbow with the producer working on the next step.
Lam uses every minute on a clock, but he's not a clock watcher. Instead, his focus is on bringing the successes and the needs of conservation to whoever will listen, wherever he or she may be.
One need to look no further than the recently released 2017 U.S. Census of Ag to see what the commitment of Oklahomans has yielded in terms of conservation – and Lam is a tireless leader in those efforts.
That report showed that Oklahoma is seventh in the nation for the largest decrease in cropland acreage using conventional tillage practices.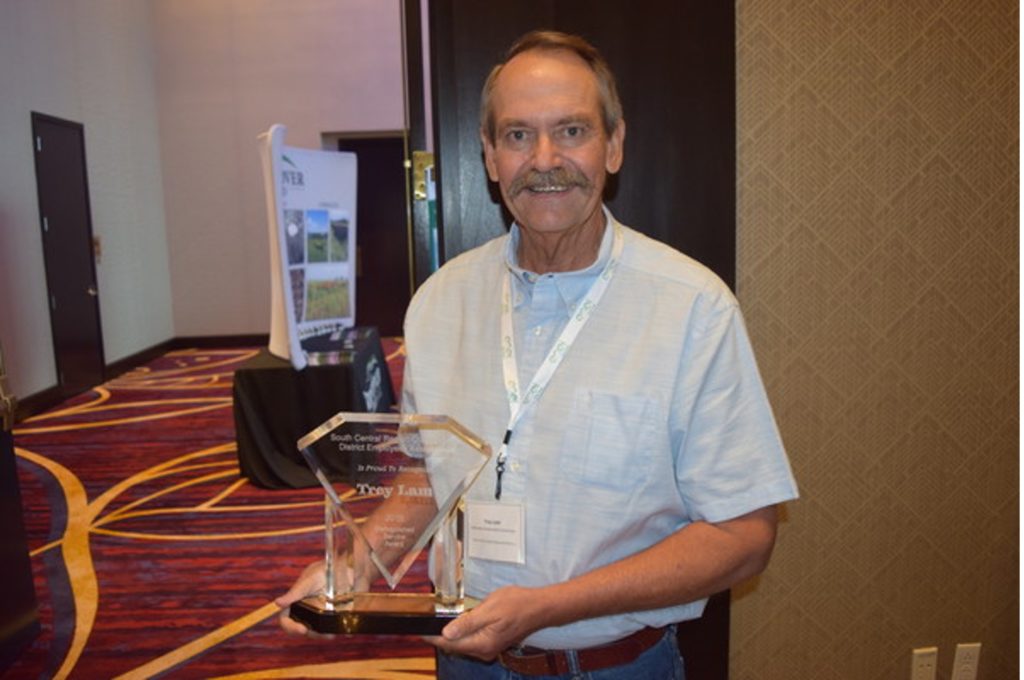 The report noted that in Oklahoma, compared to 2012, there was a 24 percent increase in the number of farms using cover crops, a 51 percent increase in acres using cover crops, and a 29 percent decrease in intensive tillage practices.
This is how Lam reacted to that tremendous news: "The hundreds of field days, demonstration farms and educational events created even more change in no-till and cover crop adoption rates than we expected. Oklahoma farmers and ranchers 'get it.' By adopting a system that protects and restores the productivity of our soil they can improve their bottom line and leave their land in better shape for generations to come."
Lam, a long-time Garvin Conservation District board member and a former President of the Oklahoma Association of Conservation Districts, has served as executive director of the OCC since November 17, 2014. He also has 30-plus years' experience in operating his own farm near Pauls Valley, Okla.
Following in the footsteps of his father, who served on the Garvin District board for over 20 years, Lam, a graduate of Yale University, is a lifelong conservationist who has taken his knowledge of Oklahoma's land and agriculture to the national stage as Oklahoma's representative on the National Association of Conservation Districts' board.
Lam uses the conservation practices of no-till and cover crops to make the most of his land at Lam Farms where the family raises alfalfa, corn, soybeans, wheat, and cattle. He also works closely with the USDA Natural Resources Conservation Service (NRCS) and Oklahoma State University (OSU) to develop farm plans for crop rotation and equipment usage.
Lam's leadership positions through the years include: Oklahoma Soybean Association President, Oklahoma Soybean Checkoff board member, Oklahoma Crop Improvement Association President, Oklahoma Alfalfa Hay and Seed Association Vice President, and OSU Dean of Agriculture Advisory Council member.
When speaking publicly, his sentences often include the words, "We are a top 10 state in…" Oklahoma is No. 1 in fewer polluted streams, phosphorous load reductions, small watershed flood control dams and volunteer citizen scientists to name a few categories.
No one reaches No. 1 without commitment and Trey Lam's commitment to conservation certainly qualifies him for this prestigious "Distinguished Service Award."