Three Conservation Districts in Caddo County Work Together for Common Goals
The three conservation districts in Caddo County combined forces to host a couple of events recently to accomplish common goals.
County Commissioners' Luncheon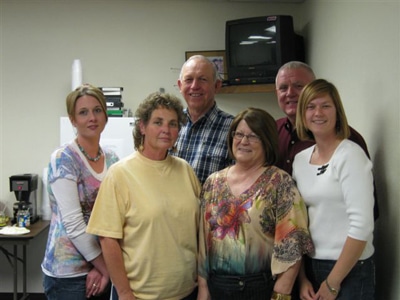 The North, South, and West Caddo Conservation Districts hosted a luncheon April 13, 2009, at the South Caddo Conservation District and NRCS Field Office in Anadarko for the Caddo County Commissioners and their secretaries. The purpose of the event was to express gratitude to the commissioners and ask for their continued support. The commissioners were asked to include funding for conservation district activities in their June budget requests.
The districts discussed their accomplishments with the commissioners, including $4.6 million put into conservation practices and infrastructure repair in the county during the period from 2006 to 2009 under the Emergency Watershed Program. Danielle Whaley, NRCS district conservationist for Caddo County, gave a presentation showing EWP project areas before and after completion.
About 25 people attended the first-time event for the districts and commissioners, and the reaction was positive all around, according to Rita Niece, West Caddo Conservation District secretary.
Watershed Breakfast
Later in the month, on April 21, the three districts hosted a breakfast for landowners whose property includes the location of a flood control dam or flood control structure permanent pool. The meeting was held at the Caddo-Kiowa Career Technology Center at Fort Cobb, beginning at 8:30 a.m. with a complimentary breakfast. About 100 people attended.
The districts used the "meet and greet" occasion to explain landowners' rights and districts' easement rights. Robert Toole, OCC Conservation Programs director, gave a presentation called Oklahoma's Watershed Program: The Benefits to Caddo County.
Invitations were mailed to names listed in district files as landowners with either a dam or permanent pool on their property. The letter inviting individuals contained the following information to help explain the purpose of the meeting and interest the landowner in attending:
"Caddo County has over 100 flood control structures. These structures help to prevent or control downstream flooding from occurring. Such a structure, which is also known as an upstream flood control dam, basically consists of a lake with an earthen dam, a concrete tower, and a pipe through the dam to maintain the water level in the lake. There is a large grassy area on one side of the dam that is known as the emergency spillway. This allows water to flow around the dam during times of heavy rainfall.
Conservation districts have easements on these sites: the easements are recorded at the local county clerk's office. The easements cover the dam, permanent pool of water, flood pool (where the water backs up during heavy rains over land that is normally dry), emergency spillway, and an area downstream of the dam for flowage. The easements grant the conservation districts the power to perform operation and maintenance on the sites, along with ingress and egress to a site."