Suzy Landess: Conservation carries history into the future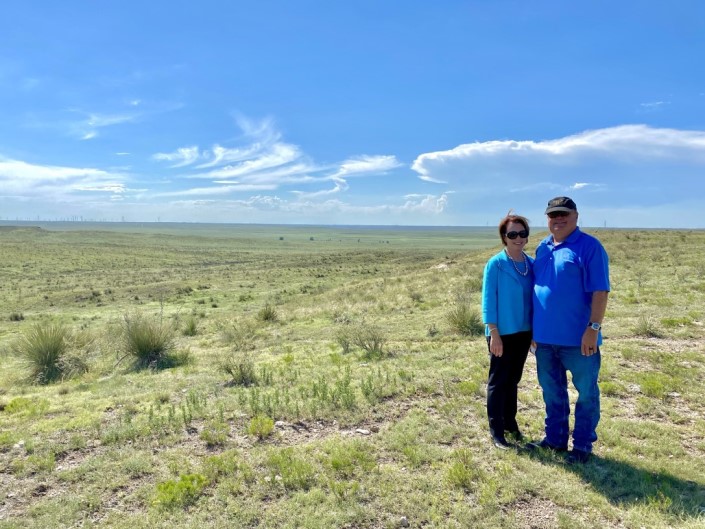 GUYMON, Okla. – Feeling a connection to the land you live on is special.
However, appreciating such a connection that stretches back in time 134 years is almost indescribable.
At any given time, Suzy Landess doesn't have to look at her family tree to appreciate history. Instead she can gaze upon the plains of the Oklahoma Panhandle.
Landess lives and ranches southeast of Guymon on the very land her great-great-great grandparents settled in 1886. That's why when explaining the present, she starts with the past.
"My ancestors designed this ranch for cattle to water out of the creeks," said Landess, who lives on the land her grandmother, Pearl Vantine, was born on. "Pastures were set up for rotational grazing along the creeks where the trees also provided shade and shelter for cattle and wildlife. As water in the creeks dwindled, my grandparents looked to windmills to provide a water source for livestock."
Today, her family's operation runs stocker cattle and commercial cow/calf pairs.
"This area of Oklahoma has changed since it was settled by the pioneers in the late 1800s," she said. "Creeks and rivers crisscrossed the Panhandle and provided a water source for buffalo, cattle and early settlers. Today, water is a precious resource in the Panhandle. We no longer have creeks and rivers flowing and we now rely strictly on the Ogallala Aquifer for water in this region."
Conservation has always played a significant role in ensuring that history continues.
"Conservation has been a way of life for me," she said. "I have always known that it was up to me to be a good steward of this land. My grandmother always said that 'This is God's land and it is our responsibility to be good stewards of the land.' "
She can't remember a time when they didn't use rotational grazing practices and they have tried to maintain a certain amount of forage growth in all of our pastures. Plus, they have placed dirt tanks near their stock tanks in hopes of catching run-off water for cattle to drink to take the strain off their stock wells.
"Throughout the years, we have participated in many conservation programs through the FSA (Farm Service Agency) and NRCS (Natural Resources Conservation Service)," Landess said. "With the assistance of NRCS, my grandparents built dams in low areas and ravines in hopes of catching run-off rain water for livestock to drink. We converted abandoned irrigation wells into livestock wells.
The Environmental Quality Incentive Program (EQIP) has helped them run water lines and drill new wells on the ranch to improve the water on the ranch.
In the 1980s, Landess' grandparents enrolled their farmland in the Conservation Reserve Program (CRP) and they still have ground in the program. Too, they began participating in the Conservation Stewardship Program (CSP) at the turn of the century. Through the CSP program, they were able to improve their management practices and learn detailed information about the nutrition that their grass provided.
There are many examples on the ranch of adapting to fit present needs.
"My grandfather Mark Vantine placed large 41-foot tanks on the ranch to water livestock," she said. "I used those tanks as a water source for two pastures by placing fence lines down the middle so cattle could water from the same tank on both sides of the fence. As the windmills that my grandparents built started to need more and more repairs, I began to replace those windmills with solar pumps. We practice rotational grazing which is similar to the native buffalo's flash grazing or cell grazing."
By these and other conservation practices, she says they are taking good care of the land, and in turn the land takes care of their family.
In turn, Suzy and husband Bill Landess share their passion for conservation with others. Landess is a member of the Texas County Conservation Board and the Oklahoma Water Resources Board.
"I enjoy being a contributor to some of the boards that help producers in the Panhandle conserve our natural resources for future generations," said Landess, who is also a member of the Oklahoma Cattleman's Association and the Texas Southwest Cattle Raisers Association. "I have great respect for others who realize the responsibility that we have to be good stewards of the land and water resources. It is our duty to ensure that future generations have access to quality water sources and that they are able to carry on the legacy of American agriculture."
Today, Landess son, Mark Landess, helps run the ranch. They are continually looking for ways to improve the pasture, soil and water on the ranch.
"Just as we taught Mark to be a good steward of the land, he is now teaching his children to do the same," she said.
At that point, she once again returns the conversation to the past to explain the importance of the present and future.
"My grandmother (Pearl Vantine) is my mentor," Landess said. "She learned to swim in the Coldwater Creek just north of my house and they often ate fish that they caught in the creek. She indoctrinated in me the importance of conserving our natural resources and persevering the land for future generations."
Photo caption: Suzy and husband Bill Landess, who live in the Guymon, Okla., area, share their passion for conservation with others.
Editor's Note: The Oklahoma Blue Thumb Calendar highlights important information about conservation, has a featured producer(s) in the months of February through October, and provides contact information for both Blue Thumb staff and Conservation Districts. Plus, this year's project includes an in-depth producer(s) feature story, such as the one following. If you would like a copy of the free 2021 Blue Thumb Calendar, please contact Blue Thumb Program Director Rebecca Bond at Rebecca.bond@conservation.ok.gov.