Sugar Creek L-44 Groundbreaking
Conservation Infrastructure Investment for Caddo County Approaches $20 Million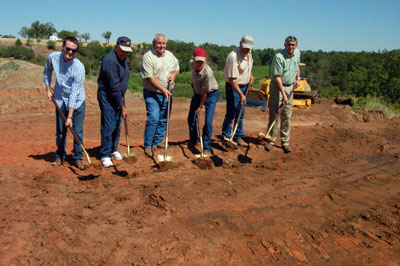 State Sen. Ron Justice and Reps. Phil Richardson, Harold Wright and Joe Dorman attended a groundbreaking event near Anadarko on Friday, July 15, 2011, to commemorate the conservation infrastructure projects underway in Caddo County. Currently, nearly $20 million worth of improvements to the county's conservation infrastructure are in various stages of design, contracting, and construction.  The South Caddo Conservation District, North Caddo Conservation District and West Caddo Conservation District, along with the USDA Natural Resources Conservation Service and the Oklahoma Conservation Commission are responsible for the projects in which each dollar of state and local funds garners enough federal match to install $4.33 worth of conservation to the vulnerable soil of Caddo County.
"I appreciate what the participating farmers, local conservation districts and others involved are doing to protect and conserve these resources that are so precious to our future," said state Sen. Ron Justice.
Caddo County is home to 710,000 acres of cropland and 30,000 people, and also to more than 100 flood control structures that were built by the U.S. Soil Conservation Service (now called the USDA Natural Resources Conservation Service) and local conservation districts. These structures, constructed primarily in the 1950s and '60s, help to reduce flooding through greater water storage, thus preventing damage to fields, roadways, and communities. But many of them are reaching the end of their design life and need work to extend the benefits they provide. And in many cases, they were built in what were rural settings at the time but encroaching development has necessitated their being reclassified as "high hazard" structures, needing to meet higher safety criteria than before. To address both of these issues, Oklahoma Congressman Frank Lucas sponsored the Watershed Rehabilitation Amendment Acts of 2000 that made federal assistance possible for rehabilitating the flood control dams.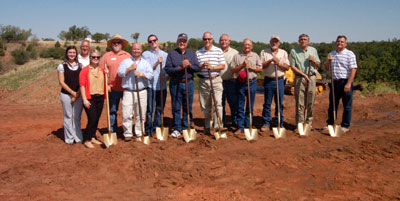 "With the extreme heat and dryness we see today it is hard to realize that four years ago we had a flood in Caddo County that did this kind of damage," said Rep. Richardson. "Can you imagine the kind of problems we would be having today if we had not built and maintained the conservation infrastructure and agricultural best management practices we developed in response to the Dust Bowl of the 1930s?" Richardson asked.
In addition to normal aging and encroaching development, severe weather plays a role as well. Caddo County's conservation infrastructure was severely battered in August 2007 when Hurricane Erin reformed as an inland tropical storm and ravaged western Oklahoma. In addition to homes and buildings being flooded and roads being washed away, flood control dams and conservation practices in the area were severely battered and damaged.
Funding for the vital repair and rehabilitation work is coming from the USDA NRCS, the Federal Emergency Management Agency (FEMA), the American Rehabilitation and Reinvestment Act, the Oklahoma Conservation Commission, the North Caddo Conservation District, the West Caddo Conservation District, and the South Caddo Conservation District. A capital improvement bond devoted to conservation work, passed by the state Legislature in 2009 was critical to providing the state match for federal funding. Rep. Dale DeWitt was one of the sponsors of the bond legislation and State Sen. Ron Justice and Rep. Phil Richardson were instrumental the bill's passage. Additional work is being performed by private landowners and by the Caddo County Board of Commissioners. The sponsors also expressed special thanks to the Bureau of Indian Affairs and the Oklahoma Department of Transportation for their help in making the projects possible.
"Benny Bowling was a newly-elected county commissioner when the storm hit in 2007," said Charlie Opitz, chairman of the South Caddo Conservation District. "His support since day one and all along the way has been invaluable to protecting and repairing Caddo County's conservation infrastructure," Opitz said.
Conservation projects underway in Caddo County include:
Flood control dam Sugar Creek L-43, sponsored by the West Caddo Conservation District, has recently completed rehabilitation. Flood control dam Sugar Creek L-44 is in the initial stages of being rehabilitated. The first two miles of a 22-mile project to repair conservation practices in the Sugar Creek waterway that were damaged or destroyed during the 2007 flooding are also currently under construction. Farrow Drop, a channel stabilization structure, is under construction in South Caddo Conservation District. There is also a program for landowners of property located in the channel and floodplains of Sugar Creek and Sugar Creek tributaries to install conservation best management practices.