Success of regenerative agriculture comes to life in General Mills project
It's somewhat ironic when items that can't talk speak volumes.
Jimmy Emmons, Oklahoma Conservation Commission Soil Health Mentoring Coordinator, kicks up a little dust as he walks about 40 yards out into a conventional-tilled field, so filled with clods it resembles eggs gathered in a basket.
Emmons kneels and sticks a soil thermometer into the parched earth. The dial jumps to life, springing upward to about 100 degrees.
Then he stands and walks across the county road just west of Billings, Okla., to a no-till field of producer Tim Heinrich. Returning to his knees, Emmons pierces the soil thermometer into the ground beside the cover of sorghum-Sudangrass stalks. It is obviously the same late morning sun beaming from above, yet the dial registers about 87 degrees.
Soon after, amid the same stubble, Emmons shares this comparison with representatives of General Mills, leadership and Soil Health team members of the Oklahoma Conservation Commission (OCC) and a few producers. The soil thermometer, or rather the readings on it, is speaking volumes. In part the cooler temperatures in the covered ground denote good soil health because this field will be able to retain moisture longer after rains move on.
The Oklahoma Conservation Commission has been recognized for their work in soil health by General Mills and scheduled this three-stop tour to share information and showcase these efforts. The Commission and their partners strive to keep producers first in education. The Commission's efforts include working with Conservation Districts to provide soil health education to local communities. This partnership and success encouraged General Mills to help support their efforts by assisting with cover crop cost for producers, as well as education, and support for local mentors.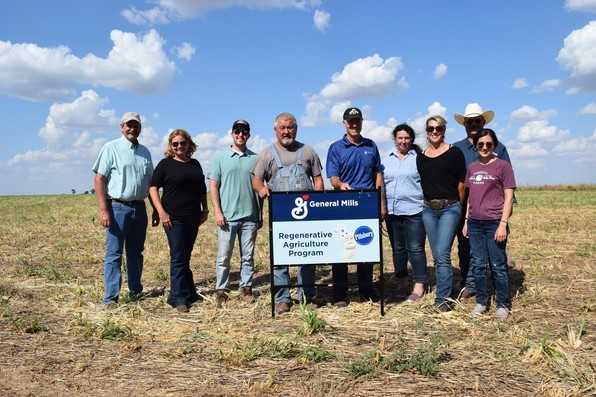 Through regenerative agriculture, farmers and ranchers can reduce their reliance on conventional practices. By doing so, they can focus on restoring or regenerating the soil, which is a cornerstone of a healthy ecosystem and a productive farm or ranch.
Those participating in the tour, in addition to Emmons, were, Trey Lam, OCC Executive Director; Amy Seiger, OCC Soil Health Coordinator; Steve Rosenzweig, General Mills Soil Scientist; Tom Rabaey, General Mills Research Agronomist; Kate Sabino, General Mills Brand Planner; local producers/mentors Heinrich, Rodney Hern of Wakita, Brian Grantz of Covington, and Steve Pope of Loyal; Dr. Andrea Jilling , Oklahoma State University; Preston Jones, Oklahoma State University student working on a carbon sequestration project; Meg Greski, OCC soil health educator; and Shanon Phillips, OCC Director Water Quality Division.
As Rosenzweig walked from Heinrich's field, he said, "These innovative farmers are showing us that now there are different ways to do some things. We are getting the opportunity to see the no-till and cover crops with soil health and water quality benefits. Plus, there are the economic benefits that you see with grazing and resting these pastures. I think we can see these regenerative ag systems, these soil health principles, are a win, win, win for the environment, the farmer and ultimately for General Mills. We're interested in a consistent supply of high-quality ingredients while also doing the right thing for the planet and the farmers that our business depends on. We're seeing all of those benefits out here with this project."
Partners for the General Mills project include OCC, the Natural Resources Conservation Service and Conservation Districts.
The project involves Kay, Grant, Garfield, and Kingfisher counties.
"The goal is to give producers as many resources as possible to help them fit their soil health needs," Seiger said. "This is truly a volunteer-based project. The producers are local, the mentors are local and the demo farms are from within each of the Conservation Districts."
The plan has been to work with Conservation Districts to establish a demo farm in each. Emmons has been working with the conservation districts to establish these mentor producers within the area of the project. The mentors, in turn, are collectively seeking 10 other new soil health producers and will help them establish and understand soil health systems better. Field days will be held at the demo farms in addition to potentially other field days in those counties.
Emmons said, "We have been working closely with and through the Conservation Districts in these counties to find these producers, such as Tim Heinrich, Rodney Hern, Brian Grantz and Steve Pope to become local mentors for producers that want to improve their land and operations through a soil health systems approach."
He emphasized that the project will be providing education and resources to help producers understand how to improve water infiltration, water holding capacity, carbon storage, and better grazing systems to add profitability to their operations.
"We will provide mentors and educational courses to show how to get to the next level of understanding the system of soil function," Emmons said.
During the recent tour, the OCC soil health team discussed results from the Working On Regenerative Management Systems (WORMS.) app and the Haney test. The WORMS app is an initiative launched by the OCC to help farmers and ranchers track the progress of the soil health work they undertake on their land. The Haney Test is a dual extraction procedure that allows the producer to assess overall soil health. The test is used to track changes in soil health based on management decisions. This test examines total organic carbon and total organic nitrogen to determine a C:N ratio used to make general cover crop recommendations. This test also includes a 24-hour CO2 soil respiration test to look at microbial biomass and potentially mineralizable nitrogen. The weak acid (H3A) extraction represents some available plant nutrients.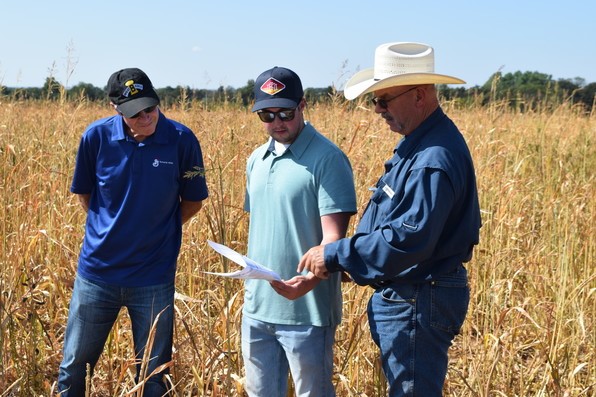 Emmons said his goal is to help people understand that the soil is a living functional place and that understanding will everyone take care of the soil instead of abusing it.
"With a better knowledge of the soil, we can have more water to work with that's cleaner downstream for our wildlife and human consumption, also lessening the need for chemicals and synthetic fertilizers adding to the bottom line," Emmons said.
Seiger said General Mills approached her in May of 2020 about expanding their soil health program into Oklahoma. Following meetings with soil health leaders and professional staff in the state, Seiger said, "General Mills felt very confident in our Conservation Districts and soil health professionals to help reach their goals. It is great to be able to be on the same page of soil health education and producer-focused work with an internationally respected company like General Mills."
As Emmons spoke at Heinrich's place, a dust devil scooted across another adjacent conventional tilled field, placing a moving exclamation mark on his point. Why? Dust devils are most likely to develop when skies are clear, and winds are light. In these conditions, ground temperatures can become much warmer than the air just above the surface – in this case on the open, conventional-tilled field. That results in an unstable environment which causes the surface air to rise. When these factors come together in a localized area, low pressure develops at the surface below the rising air. Air at the ground rushes horizontally toward the low pressure and the circulation increases.
"That's the first dust devil I've ever seen," Rosenzweig said. As more and more producers adapt regenerative soil health principles and keep fields covered, his chances of seeing more dust devils should significantly decline.