Stewardship Week 2013: Lt. Gov. Todd Lamb public service announcements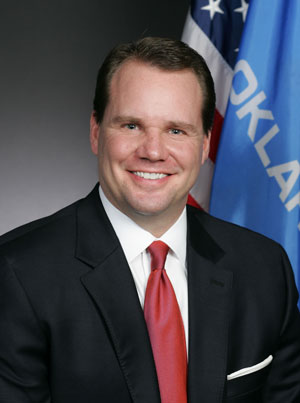 For 76 years, the state's network of conservation districts has helped Oklahomans learn to conserve natural resources. Conservation practices in the United States have helped achieve a historic standard of living and protect us from the recurrence of disasters like the Dust Bowl. Despite recurrences of drought and other extreme weather events, Oklahomans today enjoy a wide variety of fresh, healthy food and drinking water.
Stewardship Week provides a time to recognize the efforts of farmers and ranchers to protect and conservation the state's natural resources, working with local conservation districts under the support of the Oklahoma Conservation Commission and in cooperation with the USDA Natural Resources Conservation Service.
Stewardship Week is one of the largest national annual programs to promote conservation. The National Association of Conservation Districts (NACD, www.nacdnet.org) oversees the national program. Since 1955 NACD and the Oklahoma Association of Conservation Districts (OACD) have sponsored the Stewardship Week program. This year Chesapeake Energy has partnered with OACD to sponsor some activities including production of public service announcements by Lt. Gov. Todd Lamb.

During the week local conservation districts will work with newspapers, radio stations, communities, faith-based groups and local schools to promote the concept of Stewardship. This concept involves personal and social responsibility, including a duty to learn about and improve natural resources as we use them wisely, leaving a rich legacy for future generations.
"Conservation of our natural resources has played a critical role in providing clean water, abundant food, and healthy wildlife habitat, as well as jobs for our citizens and products that we use every day," said Mike Thralls, executive director of the Oklahoma Conservation Commission.
| | |
| --- | --- |
| Lt. Gov Todd Lamb's Stewardship Week No. 1 | Every year our state celebrates natural resource Stewardship Week starting on the last Sunday in April to the first Sunday in May. During this time Oklahomans can reflect on the importance of conserving and protecting our soil, water, air and wildlife habitats. We can also celebrate successes that include improved water quality and flood control. This is Lieutenant Governor Todd Lamb. Please join me in helping celebrate the work of our farmers. ranchers and other landowners in cooperation with conservation districts, the state conservation commission and the NRCS in protecting and conserving our precious natural resources. |
| Lt. Gov Todd Lamb's Stewardship Week No. 1 | This is Todd Lamb, Oklahoma Lieutenant Governor. Since the days of the Dust Bowl, Oklahoma's conservation districts along with the USDA NRCS, and our state Conservation Commission have been working with agriculture producers and other landowners to protect and conserve our natural resources. The last Sunday in April to the first Sunday in May marks natural resource Stewardship week in Oklahoma. Please join me in celebrating the work our ag producers and conservation have done and continue to do to protect our state's natural resources. |
| Lt. Gov Todd Lamb's Stewardship Week No. 1 | This is Oklahoma Lieutenant Governor Todd Lamb. Over 70 years ago our state faced one of the greatest disasters of all time, the Dust Bowl of the 1930s. Long droughts allowed high winds to blow unprotected soil into clouds of dust so thick they blotted out the sun and valuable topsoil blew away making it nearly impossible to grow crops. But by working together, Oklahoma farmers and ranchers in cooperation with conservation districts. and the state and federal government turned back the tide of dust and brought productivity back to land. The last Sunday in April to the 1 st Sunday in May marks natural resource stewardship week in Oklahoma. Please join me in recognizing the work our landowners do in protecting our natural resources. |