State Organizations Unite to Promote Prescribed Burns
The Noble Foundation entered into a strategic relationship today with the Oklahoma Prescribed Burn Association (OPBA) to advance the use of prescribed fire as a safe economical and effective land management practice in Oklahoma.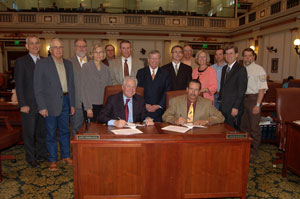 To recognize the importance of land stewardship and the role of prescribed burn, the OPBA, the Noble Foundation and this strategic relationship were recognized in a special ceremony today on the floor of the House of Representatives as part of the annual Conservation Day activities at the State Capitol in Oklahoma City.
The OPBA and the Noble Foundation, the largest independent nonprofit agricultural research organization in the United States, agreed that the Noble Foundation would provide essential support (resources and personnel) to enable the conduct of OPBA operations and programs. As part of this support, Russell Stevens, Noble Foundation wildlife and fisheries consultant, will serve as coordinator and acting head of the OPBA.
"The goals of the OPBA align with the Noble Foundation's mission to promote responsible stewardship of the land," said Bill Buckner, president and CEO of the Noble Foundation. "Prescribed burns are vital to ensuring the health and vitality of our native rangeland and farmlands, and Oklahoma is now poised to provide a comprehensive resource to our landowners."
The OPBA was formally established as a nonprofit in early 2013 after two years of statewide meetings to gauge interest and garner support from all key organizations. The OPBA will establish, educate and assist a statewide network of local burn associations across Oklahoma. The new nonprofit will also serve to educate the public and policymakers about the need to use prescribed fire and the safety of this management practice.
As research has shown, fire is a natural part of the ecological process and is necessary for rejuvenating the land. Prescribed fires (or controlled burns) are carefully choreographed and planned activities that target specific areas for this purpose. The use of prescribed fire enhances grassland and forest land, reduces fuel loads that threaten public safety (due to uncontrollable wildfires), and reduces and manages brush species detrimental to public health.
"The formation of the OPBA is one of the most important steps to help landowners reclaim the Oklahoma landscape naturally," said John Weir, research associate with Oklahoma State University Department of Natural Resource Ecology and Management. "The OPBA will provide landowners with a clearinghouse of information, training and funding opportunities to help them safely and effectively apply fire to their lands."
The OPBA brings together dozens of organizations, including the Nature Conservancy, the Oklahoma Conservation Commission (OCC) and its 88 local conservation districts, the Oklahoma Association of Conservation Districts (OACD), the Oklahoma Chapter of the National Wild Turkey Federation, Playa Lakes Joint Venture, the Oklahoma Department of Wildlife Conservation (ODWC), Oklahoma State University Extension, Oklahoma Tribal Conservation Advisory Council, the U.S. Fish and Wildlife Service, and the USDA's Natural Resource Conservation Service.
"Collaboration is one of the keys to success," said Darrel Dominick, tribal outreach coordinator with OCC. "We have built a strong coalition of reputable organizations, all focused on improving the land and supporting landowners. This is a good day for Oklahoma."