South Caddo No-Till Drill Dedication
The South Caddo Conservation District held a dedication ceremony on March 9 to announce a new piece of agricultural equipment available for use in the area. The conservation district hosted the event at its office at 1001 Petree Road, Suite A, in Anadarko.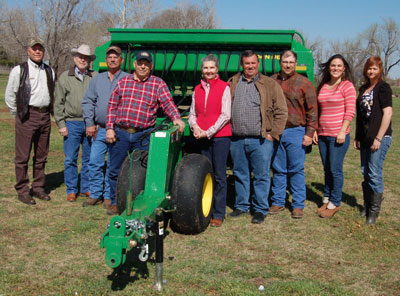 The U.S. Fish and Wildlife Service's (USFWS) Partners for Wildlife Program has provided a 10-foot John Deere seed drill to the South Caddo Conservation District through a $30,000 grant to help landowners plant native grasses to help restore native wildlife habitat. USFWS provided the drill to the conservation district for the purpose of planting 2,000 to 5,000 acres of native grass in Caddo County and surrounding counties. The conservation district will rent the drill to area producers to plant native grasses, wheat, rye or other crops.
The John Deere model 1590 drill is equipped with one large and one small seed box, completely hydraulic and the operator can raise and lower the front and back sets of planters independently of each other. The large seed box has a 35-bushel capacity.
"We greatly appreciate the U.S. Fish and Wildlife Service helping the South Caddo Conservation District to make this equipment available," said Ron Walzer, district board vice chair. "This will be a useful tool for farmers, producers and landowners in the area."
State Rep. Phil Richardson and Sen. Ron Justice spoke at the dedication as did Mike Thralls, Oklahoma Conservation Commission; Terry Dupree, U.S. Fish and Wildlife Service; and Clay Pope, Oklahoma Association of Conservation Districts.
"We are pleased that the natural resource conservation partnership works so well in Oklahoma," Dupree said. "Working with the Oklahoma Conservation Commission, and at the grassroots level the South Caddo Conservation District and Natural Resources Conservation Service, the U.S. Fish and Wildlife Service's Partners for Wildlife program is able to accomplish its goal of restoring native wildlife habitat while also accomplishing the goals of local landowners," he added.
"We are glad to see the state, federal and local government agencies work so well together in accomplishing resource conservation while keeping landowners goals as a priority," Sen. Justice said.
"All of the natural resources are tied together," said Rep. Richardson, "What affects one resource, like soil erosion, also affects other resources like water quality, so it is appropriate the these different entities work together to accomplish their mutual goals," he said.
Members of the South Caddo Conservation District board Ron Walzer, Stan Mannschreck, Ralph Myers and associate member Gloria Stearns were present for the event. District staff Thomas Selph, Paula LittleChief, and Chris Allen were present as well as USDA Natural Resources Conservation Service staff Danielle Whaley, Jerrod Price, Barry Parker, Mike Scott and Brad Elder. Dan Lowrance, Area IV Conservation Commissioner, attended the event, as did Joe Parker, president of the Oklahoma Association of Conservation Districts.