South Caddo Conservation District Honors Charlie Opitz
The South Caddo Conservation District held a luncheon on June 15, 2012, to honor Charlie Opitz. Optiz will retire from the board when his term expires at the end of June. He has served on the board of directors for 28 years, beginning in 1984. He was preceded by his father Curtis Opitz, one of the original directors elected to the district board, who served 38 years from 1945 to 1983.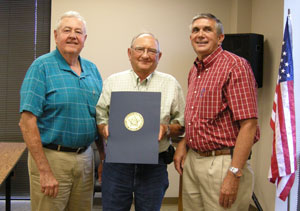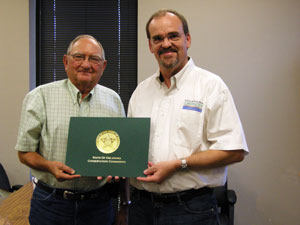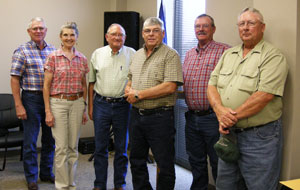 State Sen. Ron Justice and Rep. Phil Richardson attended the luncheon and presented Opitz with a Legislative Citation commending him for his service on the conservation district board. Ben Pollard, OCC assistant director, presented Opitz with a Conservation Commendation that read "For 28 years of dedicated and distinguished service to the South Caddo Conservation District and the State of Oklahoma in championing the cause of conservation." Pollard commended Opitz for his leadership and support of Small Watershed Upstream Flood Control projects in the area. Specifically Pollard mentioned Opitz support of watershed rehabilitation and Federal Emergency Management Agency (FEMA) projects.
"The damage to the conservation infrastructure from Hurricane Erin in 2007 was extensive," Pollard said. "Charlie's leadership was instrumental in securing funds and working with local landowners to make the needed repairs," Pollard said.
Opitz was born and raised in Binger, Oklahoma, son of Curtis and Rachel Opitz. He graduated from Oklahoma State University in 1959 with a degree in Agriculture. After college he returned to Binger to farm and ranch. He and wife Mary have two sons and one daughter.
Opitz said his father taught him to respect the land and to respect people who take care of the land and natural resources. He said he has always tried to leave the land in better condition than when he found it, whether he owned or rented it. Through conservation practices, he said, the land will continue to be productive for years to come.