Shellie Willoughby, Certified GIS Professional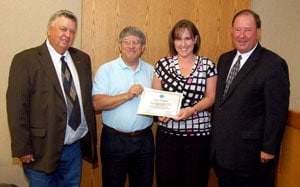 Shellie Willoughby, OCC/IT GIS specialist, was recognized at the June 2011 Commission meeting for receiving certification as a Geographic Information Systems Professional (GISP). The certificate is bestowed by the GIS Certification Institute (GISCI), a tax-exempt not-for-profit organization that provides the geographic information systems (GIS) community with a complete certification program. GISCI offers participants from the first early years on the job until retirement a positive method of developing value for professionals and employers in the GIS profession.
A GISP is a certified GIS professional who has met the minimum standards for educational achievement, professional experience, and manner in which he or she contributes back to the profession. The program is a continuing educational program with a five-year cycle for recertification.

Experience is the most important factor in applying skills to real world problems, and education plays a very important role in providing the knowledge and intellectual maturity required to approach problems and communicate solutions effectively. In addition, professionals must contribute to the advancement of the profession by donating their skills in professional efforts not designed for individual compensation, but rather to maintain the fundamental health of the profession.
Among other qualifying factors, Shellie's role in coordinating the annual GIS Day at the Capitol for many years contributed to her score for certification.
More information about the GIS Professional Certification program is available at http://www.gisci.org.