Service Award: Wes Shockley, 25 Years
Wes Shockley, Water Quality Monitoring Specialist, was recognized for 25 years of service to the State of Oklahoma at the December 2017 meeting of the Oklahoma Conservation Commission.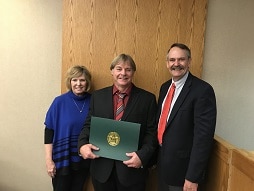 Wes hails from rural Creek County where he grew up helping with a small cow-calf operation. He enjoys fishing, hunting and organized sports. Wes completed a B.S. in Fisheries and Wildlife Management at Northeastern State University in Tahlequah where he played baseball for the university.
After a college internship with the Department of Wildlife Conservation and some work in a private laboratory, Wes started his career with OCC in the Delaware County Conservation District in 1992 where he was hired to work on OCC's first Clean Water Act Section 319 project on Battle Creek. He also worked in Cherokee County before moving back to his home county in 1995. Wes plays a vital role in the monitoring field for OCC. He is a crew leader and trains new employees. Few people know more about the health and behavior of Oklahoma streams than Wes. Wes also offers valuable insight into the activities of all aspects of the OCC 319 program. He is an excellent teacher and a good "idea" person.
Integrity and humility are what separate Wes from many. Wes will look you in the eye and tell you the truth regardless of situation. Wes is the first to take blame for group shortcomings. If something works especially well, Wes will suggest it was the result of the good people that prop him up.
Wes and his wife Kim live in Creek County and have three sons, Robert, Matt and Nathan.