Service Award: Trampas Tripp, 5 Years
Trampas Tripp, Oklahoma Conservation Commission (OCC) conservation plan writer, was recognized for five years of service to the state of Oklahoma at the November 4, 2013 Commission meeting.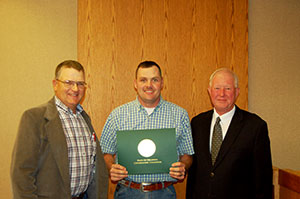 Trampas' work in conservation plan writing has brought significant acreage into water quality programs. He is also a great help to the Adair Conservation District and the local Natural Resources Conservation Service (NRCS) office where he judges 4-H projects and works in a variety of outreach projects.
Director of water quality, Shanon Phillips, said, "his special gift of finding common ground with anyone he meets has served him well in the promotion of CREP [Conservation Reserve Enhancement Program]."
Trampas also serves as a volunteer firefighter and emergency medical technician, which proved critical when he assisted an NRCS employee involved in a rollover accident.
In his free time, Trampas is a Sunday school teacher and youth leader at his church. He enjoys hunting and raising miniature horses.
Thank you, Trampas, for your continued service and commitment to conservation.