Service Award: Trampas Tripp, 10 Years
Trampas Tripp, Oklahoma Conservation Commission Environmental Technician and Inspector, was honored for 10 years of service to the State of Oklahoma at the December 2018 Meeting of the Oklahoma Conservation Commission.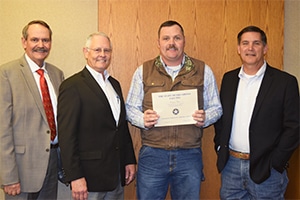 Trampas Tripp began working for the Oklahoma Conservation Commission (OCC) in 2008 as a conservation plan writer for the Water Quality Division in the Conservation Reserve Enhancement Program.
In that role, he worked with landowners, NRCS and FSA staff to develop conservation plans that protected the Illinois River and Spavinaw Lake watersheds. His efforts in the program significantly increased the acreage enrolled and ensured long-term protections for water quality.  
His skills were recognized by the AML Division and he began working part-time as a project inspector, transitioning in 2016 to a full-time position with the Abandoned Mine Land (AML) Reclamation Program as an Environmental Technician.
Trampas holds a Bachelor of Science degree in Environmental Management with a minor in Safety Management. His education and experience serve him well in performing the various tasks of his AML job which include construction inspection & safety, vegetation planning & management, AML site assessments and preparing conservation plans for completed projects. They also serve him well in his community service as the Chief of the Porum Volunteer Fire Department, a position he has held for 15 years, where he performs public safety work in the protection of life, property and the environment.
Trampas is extremely well respected and well-liked by his coworkers and others he works with and is recognized for his common sense, professionalism, excellence in performance and ability to work as a team player.
Thank you, Trampas, for your 10 years of service!