Service Award: Tammy Sawatzky, 25 Years
Tammy Sawatzky, OCC Conservation Programs deputy director, was recognized at the June 2010 Commission meeting for 25 years of service.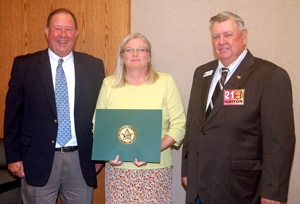 Tammy started with OCC as an administrative assistant in the Water Quality division then moved to the accounting department and then to the District Operations division that is now known as Conservation Programs in which she wears the title of deputy director.
Robert Toole, OCC/CP director, said Tammy was instrumental in developing the Locally-Led Conservation Cost-Share Program, the Watershed Operation and Maintenance Program and the Watershed Rehabilitation Program and manages those programs with a high degree of efficiency and effectiveness. Through her management of watershed contracts, Tammy has gained the confidence and respect of those she works with in the Construction and Properties Division of the Department of Central Services, Toole said.
"Tammy takes her job seriously and performs her daily job functions without distracting others yet she is always willing to help others when needed," Toole said.
Tammy holds Bachelor of Arts degrees in both Business Administration and Accounting. In her pursuit of professional improvement she completed the multi-year curriculum to be named a Certified Public Administrator. She has also completed courses on the Excel spreadsheet program and The Seven Habits of Highly Effective People. She conducts "mini seminars" during Conservation Programs staff meetings to share what she learns in training programs.