Service Award: Steve Coffman, 30 Years
Steve Coffman was recognized for 30 years of service to the state of Oklahoma at the November 3, 2014 meeting of the Oklahoma Conservation Commission. Steve serves as director of the Financial Management Division and agency comptroller. Steve has a big job that includes planning, directing, and coordinating the fiscal operations and financial accounting functions of the agency. He also oversees the management of agency allocations to and financial transactions with conservation districts.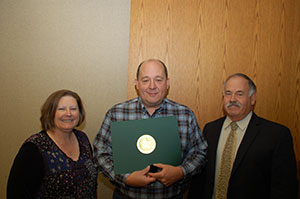 An excerpt from his recognition reads, "Steve is a great asset to the agency. He works with each and every program area and is always willing to lend a hand whenever needed."
Steve began his career in state government as a revenue examiner in gross production with the Oklahoma Tax Commission in 1984. In 1985 he moved to OCC as a purchasing agent. In the early days of the internet, Steve built the agency's first server network and web page.
Steve and his wife have hosted exchange students from all over the world and enjoy spending time at the lake with their four grandchildren.