Service Award: Stacey Day, Five Years
Stacey Day, OCC/WQ senior technical writer, was recognized at the August 2010 meeting of the Oklahoma Conservation Commission for five years of service to OCC and the state of Oklahoma. She also serves as Quality Assurance Officer for the division. She supervises a team responsible for producing all project reports, quality assurance documents, and various written programmatic elements in addition to conducting analysis and assessment of monitoring data in support of WQ projects and the state's integrated report. She also serves on several interagency technical working groups.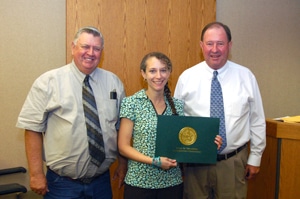 Stacey has been with OCC since July 2005 and was named Employee of the Quarter in December 2008.
Stacey has a B.S. in Zoology from Texas A&M University and a Ph.D. in Biology from the University of Houston. She resides in Edmond, OK with her husband and four daughters.
"Stacey is an absolute workhorse of the WQ Division and genuine credit to the Conservation Commission and state employees in general," said Greg Kloxin, OCC/WQ assistant director during Stacey's recognition.