Service Award: Shellie Willoughby, 20 Year
Shellie Willoughby, GIS Specialist in the Office of Geographic Information and Technical Services, was recognized for 20 years of service to the state of Oklahoma at the February 2017 meeting of the Oklahoma Conservation Commission (OCC).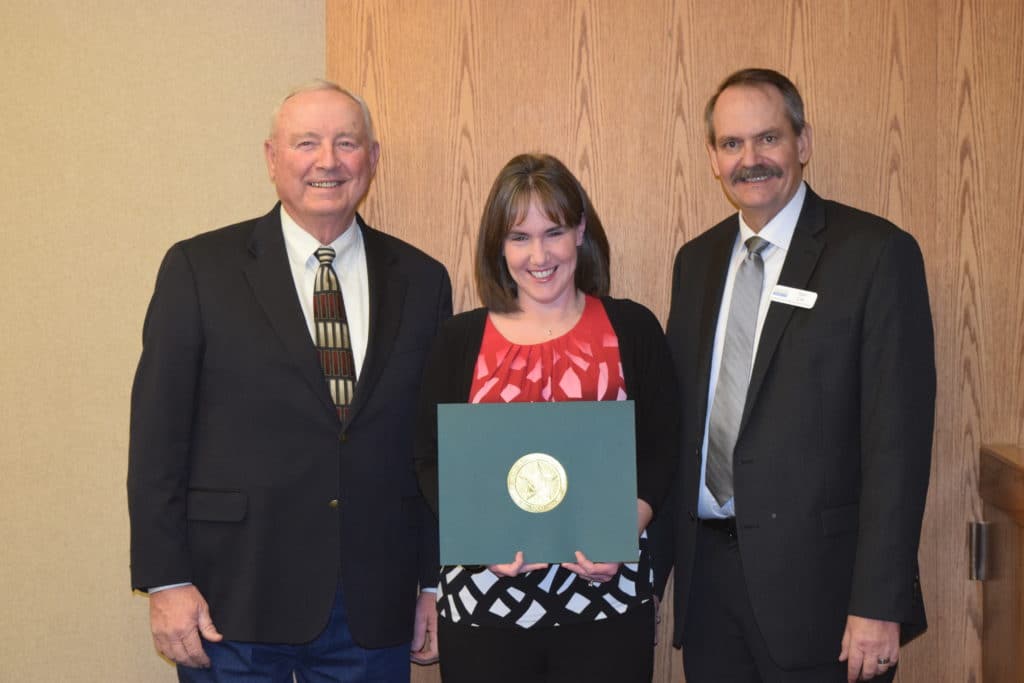 Shellie traces her roots back four generations in Mayes County. She graduated from Pryor High School and attended college at Northeastern Oklahoma A&M in Miami, graduating in 1995 with an associate degree in Pre-Engineering. Following NEO Shellie attended OSU in Stillwater where she majored in Geography, earning a Bachelor of Science in 1997. Immediately following graduation she began working on a Master of Science degree in Geography.
Shellie started work at the OCC in January, 1999, as a GIS Specialist in the Water Quality Division. She earned her MS degree in December, 2000. After a short tenure in the Administrative Division, she transferred to the newly formed Information Technology Division (now the OGI & TS Division) in 2001 where she applies her GIS skills assisting all OCC divisions and conservation districts with their mapping projects.
Shellie is active in a variety of organizations, mainly associated with her GIS work. She has been involved with the South Central Arc Users Group (SCAUG) for the past 17 years. During the past 12 years she has served as the Chair of the OK Chapter of SCAUG as well as other positions on their board of directors. Also, during this time she has served in various positions on the regional SCAUG board and is the current Vice-President, a position she has held for at least the past 5 years.
Shellie has participated in GIS Day at the Capitol since 1997 and has been the coordinator of the event since 2002. She serves on the Executive and Steering committees of the Mid-America GIS Consortium (MAGIC), a regional nonprofit educational organization. Through her work at the Conservation Commission she is an instructor and course developer for the U.S. Department of Interior Office of Surface Mining TIPS courses dealing with general GIS and image and spatial analysis. Shellie has been recognized as a Certified GIS Professional (GISP) by the GIS Certification Institute (GISCI). She is also a member of the State Incident Management Team and has provided GIS support in several incidents the Team has been called upon to manage.
Shellie has served as chairman of the OCC Awards and Recognition Committee and recently coordinated the Commission's United Way campaign. She is known for doing an outstanding job in boosting agency enthusiasm and making OCC an enjoyable and rewarding place to work.
Congratulations to Shellie Willoughby for 20 years of outstanding service to Oklahoma and the Oklahoma GIS user community!