Service Award: Shellie Willoughby, 15 Years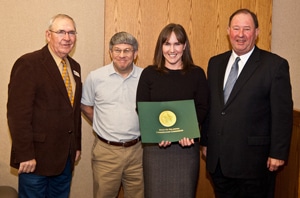 Shellie Willoughby, OCC/IT GIS (geographic information systems) coordinator, was recognized for 15 years of service to OCC and the State of Oklahoma at the February meeting of the Oklahoma Conservation Commission. Shellie joined OCC in 2003. Previously she had worked as a graduate assistant at Oklahoma State University, which counts toward her years of service with the state.
When Shellie joined OCC, she worked in the Water Quality division as a GIS coordinator, creating maps for that division and other OCC divisions as well. When OCC reorganized its staff structure in 2000, her position was moved to the Information Technology Division as GIS coordinator. As a participant in the State Geographic Information Council she has coordinated GIS Day at the Capitol since 2001. She has been called on the past by the Governor's office to generate an official map of state legislative boundaries, and recently was called upon again by current Governor Mary Fallin to generate a new official map.
Shellie has served twice as chair of OCC's Awards and Recognition Committee. She serves as conference coordinator for the South Central Arc Users Group and regional vice president for that organization. She also serves on the executive board of the Mid States GIS Consortium.