Service Award: Shanon Phillips, 15 Years
Shanon Phillips, OCC/WQ director, was honored at the July 2010 Conservation Commission meeting for 15 years of service to OCC and the State of Oklahoma. She came to work at OCC as a technical writer in 1997. Before that she worked for two years at the Oklahoma Water Resources Board studying state lakes including Lake Wister, Arcadia Lake, Henryetta City Lake and Lake Tennkiller.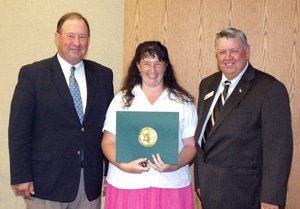 Shanon earned her B.S. degree in Biology at Kansas State University and her M.S. degree in Zoology at Oklahoma State University working on a Clean Lakes Study on Lake Tennkiller.
Shanon lives in Oklahoma City with her husband Jon and son Cooper aged 8. She hails from a long line of school teachers and agricultural producers, and her family's farm is in Coffey County, Kansas. The farm is a small cow-calf operation currently managed by her uncle and is the site of an USDA Natural Resources Conservation Service -constructed flood control dam.