Service Award: Robert W. Toole, 15 Years
The moniker, "15 years of service" belies an entire life committed to the conservation of natural resources. Robert W. Toole, OCC assistant director and recently anointed Abandoned Mine Land Reclamation Division director, was honored at the July 7, 2014 meeting of the Conservation Commission for 15 years of service to conservation and the state of Oklahoma.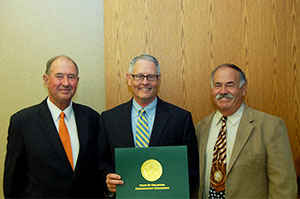 Toole has worked at every level within the conservation movement. He began his career as an employee with Greer County Conservation District while he was still in high school. He later took on a job as district conservationist with the Soil Conservation Service (SCS and today known as USDA Natural Resources Conservation Service) in Cimarron Valley Conservation District in Okeene.
He first came to work for OCC under an assignment agreement while still on with SCS. His talent for management and creative planning skills earned him the role of OCC assistant director in 1982. He maintained that position until he left OCC in 1987 to work as a south-central region representative for the National Association of Conservation Districts (NACD).
After many years with NACD, Toole returned to OCC in 2004 as the Conservation Programs Division director where he spearheaded an effort to implement Emergency Action Plans across the agency and in all 87 conservation districts. He also shaped the Watershed Program within the Programs Division into a marquee example of how to effectively educate the public and decision-makers on a program.
Toole is an exemplar conservationist whose efforts leave no doubt in his commitment to our land, our heritage, and our future. Thank you, Mr. Toole, and here's to another 15!