Service Award: Nathan Carter, 5 Years
Nathan Carter, Water Quality Monitoring Specialist, was recognized for 5 years of service to the state of Oklahoma at the November 2016 meeting of the Oklahoma Conservation Commission (OCC).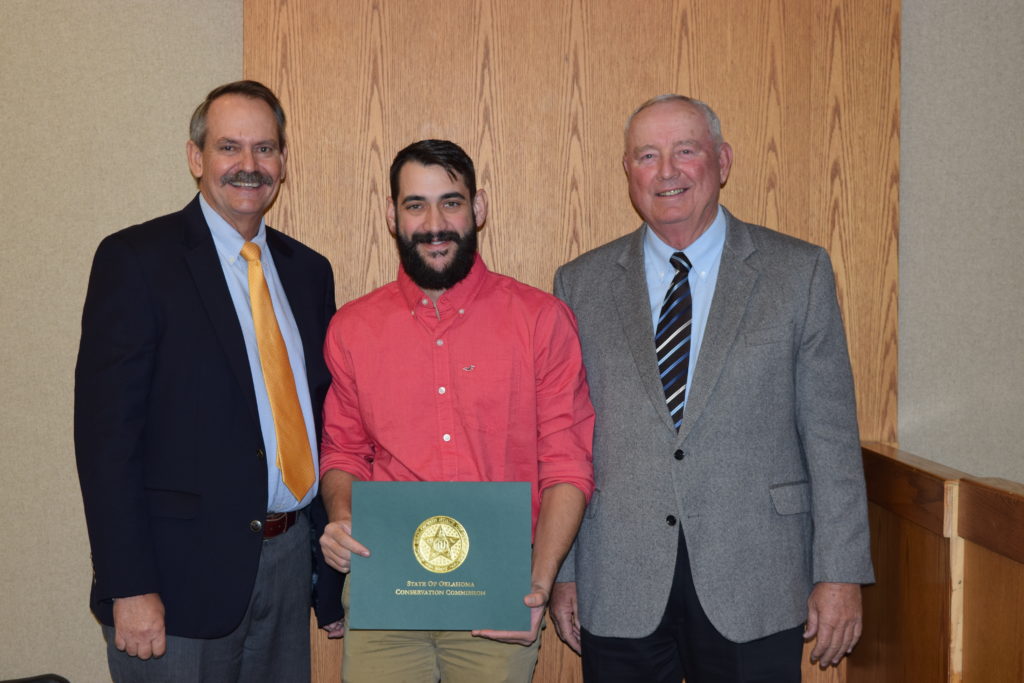 Nathan started working for the OCC full time after serving as a summer intern for two years and graduating from NSU in 2011. As part of our water quality monitoring team, he helps the OCC maintain the Rotating Basin Monitoring Program, which the agency uses to find water quality concerns and to demonstrate the success of voluntary conservation efforts across the state.
Nathan quickly demonstrated the aptitude and work ethic that singled him out as a future monitoring program leader. He has pursued training to become a resident expert in fish and benthic macroinvertebrate identification that will ultimately save the Commission upwards of $50,000 per year in outside contracts. He is certified in benthic macroinvertebrate identification to Order and in western EPT (Ephemeroptera, Plecoptera, and Tricoptera – 3 orders of insects most commonly used as an indicator of water quality).
There are few people in the water quality arena who have gained the level of knowledge and expertise that Nathan has in the first five years of their career. He has a thirst for knowledge and a desire to contribute that is critical toward maintaining the future of the OCC water quality monitoring program.

Nathan lives in Kellyville with his wife Leona and three daughters Libby 8, Claire 6, and Jules 1. Nathan is an avid waterfowl and turkey hunter. He enjoys gardening, all things science, and spending time with his girls.