Service Award: Monty Ramming, 15 Years
Monty Ramming, Water Quality Division project coordinator, was recognized for 15 years of service to the State of Oklahoma at the May 2017 meeting of the Oklahoma Conservation Commission.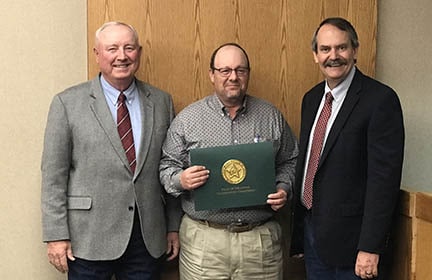 Monty began in April 2002 as the project coordinator for the Fort Cobb 319 Project. After completing that project, he moved over to become project coordinator for the North Canadian River Project. Through these projects, he's worked with more than 400 landowners, 8 conservation districts, and overseen the installation of more than $3.5 million worth of conservation practices.
In his role with the North Canadian Project, Monty helped lead countless tours for the project to help educate numerous audiences about the value of voluntary conservation programs. He also helped train the district verifiers participating the in Western Farmer's/OACD/OCC partnership for the OCC Carbon Program.
Monty is currently the project coordinator for the Elk City Lake RCPP and works with the North Fork of the Red Conservation District and NRCS out of Sayre, OK to support implementation of that project. We are celebrating the milestone in that program of our first riparian area contract.
Monty has a proud family history steeped in farming and conservation. His dad was a member of the North Caddo board for over 20 years but also built concrete chutes for producers with NRCS contracts. The Ramming boys learned about Conservation from an early age, which is reflected by Monty, of course, and many of you also know his brother Michael, D.C. in Delaware County.
Monty and his wife Pam have been married for 31 years and have three children. They are proud grandparents to two wonderful grandchildren.