Service Award: Monty Ramming, 10 Years
Monty Ramming, OCC/Water Quality North Canadian River Project coordinator, was recognized for 10 years of service at the May 2012 meeting of the Oklahoma Conservation Commission.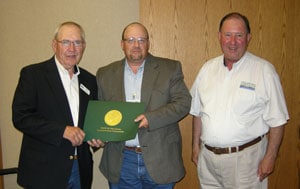 Monty began work at the OCC in April 2002 as the project coordinator for the Fort Cobb 319 Project. After completing that project, he moved over to become project coordinator for the North Canadian River Project. Through these projects, he's worked with more than 400 landowners, eight conservation districts, and overseen the installation of almost $2 million worth of conservation practices.
Monty's role in the North Canadian Project was pivotal in the pilot carbon program with Western Farmers Electric Cooperative where he was OCC's first carbon contract verifier. As the program evolved, he became an even more integral part of the program and helped the district verification process evolve.
"The extra effort he put toward the carbon program has been integral to its success," said Shanon Phillips, OCC/WQ director. "His experience and understanding of challenges that district verifiers would face helped direct the program into reasonable, efficient data collection," she said.
Monty said he is proud to have been raised on a farm and proud of his family history in conservation. Monty's cousin Jason Ramming is also employed by OCC's Water Quality Division, and Monty's brother Michael Ramming is the NRCS district conservationist for Delaware County Conservation District. The Ramming boys learned about conservation from an early age. Monty's father, Robert Ramming, served on the North Caddo Conservation District board of directors for more than 20 years, and also built concrete chutes for producers with NRCS contracts. Monty said he feels lucky to work with great people who are like-minded in conservation districts, the OCC and NRCS, and, of course, private landowners.
Monty and his wife Pam have been married for 26 years and have three children and two grandchildren.