Service Award: Mike Sharp, 30 Years
Mike Sharp, OCC/IT director, was honored at the July 2010 Conservation Commission meeting for 30 years of service to OCC and the State of Oklahoma. Mike came to work for OCC in 1991 as assistant director of OCC's Abandoned Mine Land Reclamation Program. He also currently serves as Acting State Geographic Information Coordinator and represents OCC in the position of chairman of the State Geographic Information Council.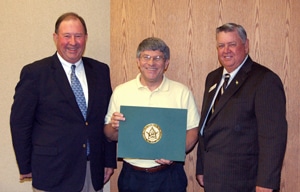 Previous to joining OCC Mike served as Secretary to the Commissioners of the Land Office from 1987 to 1991. He ran a full time farming operation in Nowata County from 1980 to 1987 during which time he served on the Nowata County Conservation District board from 1984 to 1987 and was president of the Nowata County Farm Bureau during the same four years. He served as Area III director for the Oklahoma Association of Conservation Districts in 1986 and 1987. He was a member of the first Ag Leadership Class 1982-1984.
Mike holds a B.S. degree in Animal Science and a Ph.D. in Biochemistry and Animal Nutrition both from Oklahoma State University. He served as a Graduate Research and Teaching Assistant at OSU 1971-1977 and served as a Research Associate at the University of California 1977-1979 and at OSU 1979-1980.