Service Award: Mike Kastl, 35 Years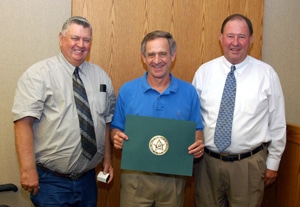 Mike Kastl, OCC/AML director, was recognized at the August 2010 Commission meeting for 35 years of service to OCC and the state of Oklahoma. Kastl's 35 years of service to the Commission is the most of any known employee.
Mike Kastl has worked for the Conservation Commission since July 1975 when he was hired as planning assistant for the agency. He served as assistant director for four years under Executive Director Leonard A. Solomon. For the past 24 and one-half years Mike has been the director of the Abandoned Mine Land (AML) Reclamation division.
In his career at the Commission Kastl has championed the reclamation of abandoned coal mine lands in Oklahoma. He has also provided leadership nationally, being instrumental in the formation of the National Association of AML Programs (NAAMLP), of which the Commission is a member. Mike served as both vice president and president of the National Association in the 1980s. In September 2009 Mike was honored at the NAAMLP's national meeting with its Lifetime Achievement Award for his leadership and commitment to the country's reclamation program. Kastl has also been instrumental in developing training courses for state and federal reclamation staff. He has taught several courses over the years and was recognized by the federal Office of Surface Mining in 1997 for his role in developing the national training program. Kastl is graduate of Oklahoma State University and has both a bachelor and master's degree. Prior to working for the Commission Mike was a high school Vo- Ag teacher at John Marshall High School in Oklahoma City and Edmond Memorial High School.