Service Award: Mark Harrison, 20 Years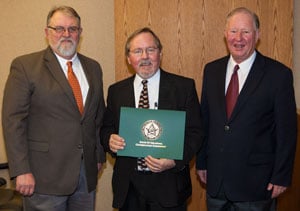 OCC Public Information Officer Mark Harrison was recognized at the January 2013 Commission meeting for 20 years of service to the Conservation Commission and the state of Oklahoma. OCC Assistant Director Ben Pollard commended Harrison for his hard work and loyalty to the agency and to conservation districts. He noted that Harrison had coauthored and coordinated publication of two books for OCC. The first, Oklahoma's Wetlands Reference Guide, by Harrison and James E. Henley, was published in 2000. The second, Out of the Dust – The History of Conservation in Oklahoma in the 20th Century, by Harrison and F. Dwain Phillips, was published in 2004 and was selected by the American Library Association's Government Documents Roundtable Notable Documents Panel as one of 10 notable government documents in the nation for 2004. As a result of the honor, the Conservation Commission received a Governor's Commendation from Gov. Brad Henry.
Pollard noted that although Harrison came to OCC from a traditional print publishing and graphic arts background, he has played an integral role in OCC's transition to modern electronic communications including design and management of the agency website and introduction of social networking and social media communication tools.