Service Award: Lisa Knauf Owen, 20 Years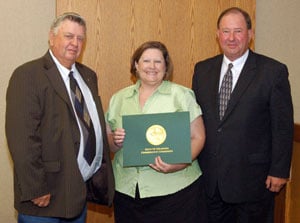 Lisa Knauf Owen, OCC District Services director, was recognized at the June 2011 Conservation Commission meeting for 20 years of service to OCC and the state of Oklahoma.
Lisa started with Rogers County Conservation District as education coordinator for the Rogers County Conservation Education Reserve in October 1989. She worked in that role for three years, then left and worked in Maine for the state Forest Service. She returned to Oklahoma and joined OCC in May 1994, serving first as education coordinator, later as wetlands coordinator and then assistant director for the District Operations division. When OCC realigned in 2000, a new division, District Services, was created and Lisa was named as division director.
The District Services division's primary objective is to serve as a liaison to conservation district boards and employees in an effort to enhance the capabilities of districts to deliver a variety of services and programs. In addition to providing assistance to conservation districts with personnel, financial, program and day-today business issues, Lisa as coordinated a series of grants from the U.S. Fish and Wildlife Service to conservation districts. These grants, for the purpose of restoring native wildlife habitat, have assisted districts with the purchase of equipment for planting native grasses and equipment to assist with prescribed burning efforts to control invasive plant species.