Service Award: Leonard Moore, Jr., 30 Years
Leonard Moore, Jr., OCC water quality monitoring specialist, was recognized for 30 years of service to OCC and the state of Oklahoma at the September 18, 2013, full staff meeting of the Oklahoma Conservation Commission.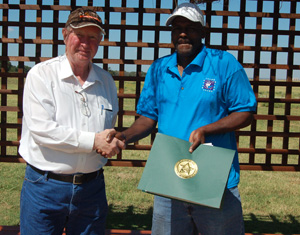 Leonard's career in conservation began with his work at the Tulsa County Conservation District in 1983. When the Blue Thumb Program began in Tulsa in the early 1990s, Leonard became involved with the voluntary monitoring program. He worked out of the Tulsa County Conservation District for several years. This experience led to Leonard's employment with the Commission's Water Quality Division in 1997.
Leonard's long-time supervisor, Brooks Tramell, says "Leonard has been and remains a joy to work with. He is a hard worker whose pride and competitive nature drive him to achieve great things. Dedicated to furthering conservation through water quality and biological monitoring, Leonard has persevered through a vast variety of pleasant, unpleasant, and downright tough conditions during fieldwork. These include summers with intense heat when temperatures remained above 100 degrees for over 30 days, such as in 2012, and the cold bone-chilling winters Oklahoma experienced in 2000 and 2011, plus droughts and floods. But Leonard persevered, and his dedication and tenure make him an invaluable asset to the Commission."
As a water quality monitoring specialist, Leonard spends his time gathering habitat and biological data from streams across the state. He is still very active in the Blue Thumb Program.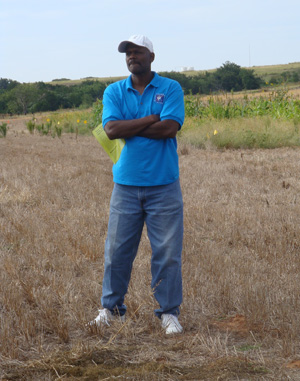 Leonard is an avid sports fan of football, basketball, and baseball. He also enjoys a game of golf when possible. In recent years, Leonard has umpired and refereed youth sports and remains a basketball referee for several age groups up through high school. Leonard resides in Okmulgee County with his family.