Service Award: Leonard Moore, 35 Years
Leonard Moore, Oklahoma Conservation Commission Monitoring Specialist, was honored for 35 years of service to the State of Oklahoma at the October 2018 meeting of the Oklahoma Conservation Commission.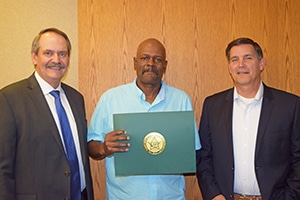 Leonard Moore, Jr. began working for the Tulsa County Conservation District in 1983. When the Blue Thumb Program began in Tulsa in the early 1990's, Leonard became involved with the voluntary monitoring program. This experience led to Leonard's employment with the OCC Water Quality Division in 1997. Leonard worked out of the Tulsa County Conservation District for several years and moved to the Bristow office when the Blue Thumb Program transferred there.
Leonard is a joy to work with. He is a hard worker, and maintains an inner pride and competitive nature that drives him to achieve great things. He is often a quiet man, but has a gift for summarizing a situation with accuracy and humor. Dedicated to furthering conservation through water quality and biological monitoring, Leonard has persevered through a vast variety of conditions during field work. These include the summers with intense heat, cold winters, droughts, and prolonged floods. Earlier in October, Leonard carried the back-pack electrofishing unit for a total of 2 hours and 30 minutes on a hot day in a stream full of silt and woody debris even though several offers were made to take the unit to give him some relief. Leonard's dedication and tenure make him an invaluable asset to the Commission.
Leonard is a long-time resident of Beggs, Oklahoma in Okmulgee County where he resides with his wife Jamie. He has an adult daughter who lives in Houston and a son and second daughter, both in college. Leonard is an avid sports fan, including football, basketball, and baseball. He enjoys a game of golf when possible. Leonard has umpired and refereed youth sports and continues as a basketball referee for several age groups up through high school. Leonard has served on the Beggs School Board for several years. Leonard is a mentor for the youth in his community, encouraging them to set and achieve goals and contribute, much the way he has done.
Congratulations to Leonard Moore for his 35 years of service!