Service Award: Kim Shaw, 10 Years
Kim Shaw, OCC/WQ Blue Thumb Program quality assurance officer, was recognized at the February 2013, meeting of the Oklahoma Conservation Commission for 10 years of service to OCC and the state of Oklahoma.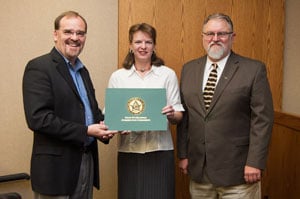 Kim came to work for OCC in January 2003 and spent her first two years as a water quality specialist in OCC's Water Quality division. Then became the education coordinator for the WQ division's Blue Thumb Program. With Blue Thumb, Kim has done everything from field collections, to natural resource days with children, to teaching volunteers how to test water. Kim loves being outdoors especially in streams, and she loves spending time with Blue Thumb volunteers, so her job has been a really good fit.
More recently Kim was promoted to quality assurance office for the Blue Thumb Program which calls for more time indoors than her previous positions, and also more travel and some evening and weekend hours as well, but she is doing a "super job" at it according to Cheryl Cheadle, Blue Thumb Program coordinator.