Service Award: Kevin Varner, Five Years
Kevin Varner, OCC District Services district liaison, was recognized at the April 2013 Commission meeting for five years of service to OCC and the state of Oklahoma.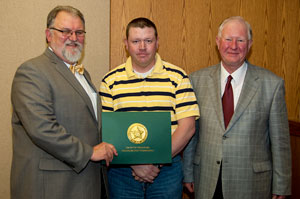 Kevin began working for OCC in February 2008. "During this time he has become a valuable member of the District Services team," said Lisa Knauf Owen, OCC District Services director. "He works very closely with conservation districts and provides valuable service to them especially when they are without staff due to retirements and resignations," she said. "His computer skills have allowed us to streamline the budget request process for conservation districts as well as develop instruction sheets for tax reports," Lisa said.
Kevin graduated from Cameron University with a Bachelor of Science degree in Agriculture. He spent seven years as an extension education specialist for the Oklahoma Cooperative Extension Service in Cleveland and Stephens Counties working with 4-H members and youth development project
Kevin and his wife Tiffany make their home in Oklahoma City.