Service Award: Karla Beatty, 15 Years
Karla Beatty, OCC education coordinator, was recognized for 15 years of service to OCC and the state of Oklahoma at the June 25, 2013, meeting of the Oklahoma Conservation Commission.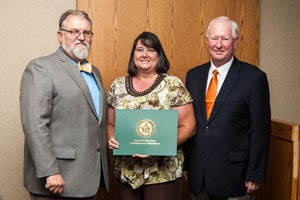 Karla joined OCC in 1999 after working for the Oklahoma Department of Wildlife Conservation. Robert Toole, OCC/Conservation Programs director, noted that Beatty serves on the executive board for the National Project WET (Water Education for Teachers) and has served three terms as the Region 5 representative to the Project WET Coordinators Council. Karla is president of the Oklahoma Association for Environmental Education and represents OCC as chair of the Oklahoma Environmental Education Coordinating Committee.
Karla's duties as the OCC Education Coordinator include managing Oklahoma's Project WET Program. She also conducts numerous workshops to train educators in conservation education, coordinates and conducts the H2Oklahoma Water Festival,is instrumental in the Environmental Education Expo and has been involved with the Wildlife Expo since its inception. Karla provides educational tools and technical assistance to conservation districts in their education initiatives and participates in numerous district natural resource days. She provides assistance in the planning and development of outdoor classrooms and has been called upon by many organizations to share her outdoor classroom planning expertise.
Karla also assists the Water Quality Division with education activities. Most recently she partnered with the Water Quality Division to configure and conduct the North Canadian River Watershed Tour designed to educate and train teachers about conservation education using (incomplete sentence on website, not sure what else goes here).
Karla and her husband and son live in Edmond.