Service Award: Eldon Merklin, 16 Years
Eldon Merklin, Cost-Share Program coordinator, was recognized at the March 2014 meeting of the Oklahoma Conservation Commission for his retirement after 16 years of service to OCC and the state of Oklahoma. In his job, Eldon audits claims for the Locally-Led and the Priority Watershed Cost-Share Programs. He performs field reviews for the locally-led program and provides program assistance to OCC staff, conservation districts and USDA Natural Resources Conservation Service field staff.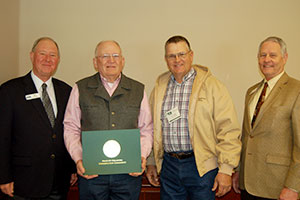 Merklin was recognized in 2013 for 15 years of service; his recognition read: "Eldon is the kind of trustworthy, loyal, committed, dedicated employee that the Oklahoma Conservation Commission appreciates," said Robert Toole, OCC Conservation Programs division director. "Eldon's customer service, teamwork and leadership are exemplary."
Happy retirement, Eldon!