Service award: Judith Wilkins, 15 years
Judith Wilkins, Water Quality Division Environmental Projects Coordinator, was recognized for 15 years of service to the State of Oklahoma during the October 5, 2015 meeting of the Oklahoma Conservation Commission.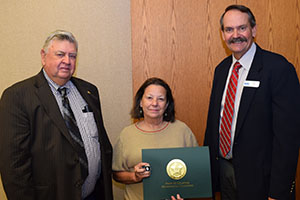 Her recognition read:
"We recognize Judith Wilkins for fifteen years of service to the state of Oklahoma. Judith began service with the agency as the Water Quality Division executive secretary in September 2004. Prior to that, she worked for the Oklahoma Corporation Commission. Judith is the Water Quality Division's Environmental Projects Coordinator, responsible for tracking and coordinating the activities of Water Quality Division projects to ensure timely completion of work plan milestones and reports. In this capacity she connects with the division's many partners to ensure that the requirements of our funding agency, the Environmental Protection Agency (EPA), are met. She relishes any opportunity to shine a light on the division's good works.
"As EPA funding has decreased, and with it the opportunity to have so many projects outside the agency, Judith has sought out other roles to assist the division with the agency mission. She currently provides assistance to the Blue Thumb Program, helping them fulfill the countless requests for environmental education programs. She's also taken over This Week in Conservation, an internal newsletter produced for members of the Oklahoma Conservation Partnership.
"Judith resides in Norman where she serves the community in a number of environmental roles. She is also an avid gardener with an enviable showcase of flowers, and caretaker and companion to a large circle of pets, neighbors and friends."
Congratulations, Judith!