Service Award: Judith Wilkins, 10 Years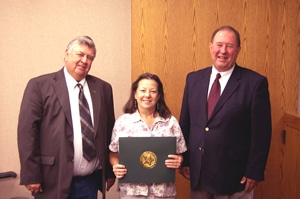 Judith Wilkins, OCC Water Quality Division environmental projects coordinator, was recognized at the October 2010 meeting of the Oklahoma Conservation Commission for 10 years of service to OCC and the state of Oklahoma. She began working for OCC in September 2004 as the executive secretary of the Water Quality division. In her current position as environmental projects coordinator, Judith is responsible for tracking and coordinating the activities of Water Quality Division projects to ensure timely completion of work plan milestones and reports. In this capacity she connects with the division's many partners to ensure that the requirements of the funding source, the U.S. Environmental Protection Agency, are met.
"Judith relishes any opportunity to shine a light on the division's good works," said Shanon Phillips, OCC/WQ director.
With the state of Oklahoma, Judith served in a temporary capacity for the Corporation Commission and worked for several years for the University of Oklahoma. For many years she was also employed as a legal secretary in Norman. Originally from Tulsa, Judith has resided in Norman for a number of years where she is engaged in civic and environmental activities